China deploys J-11 fighter jet in South China Sea amid Trump-Xi meeting, US think tank says
The think tank believes there are likely to be more planes in hangers near the Woody Island in Paracel groups.
A US think tank said it has spotted a Chinese fighter jet on a Beijing-controlled island in the disputed South China Sea for the first time in nearly a year. It believes there are more planes in hangers nearby.
Reports of the sighting comes amid US President Donald Trump's meeting with his Chinese counterpart Xi Jinping in Florida on 6 and 7 April.
Satellite image taken by the Asia Maritime Transparency Initiative (AMTI), which is part of the Centre for Strategic and International Studies, showed a J-11 fighter jet stationed on the airstrip at Woody Island in the Paracel island group. The pictures were taken on 29 March.
"This isn't a first, but it's the first time in a year," Reuters cited AMTI director Greg Poling as saying on Thursday (6 April). "There are likely more in the hangars nearby," he added, while referring to the single fighter plane that was visible in the satellite image.
However, it is unclear how long the plane had been there, Poling said. He warned that China could order similar deployments on artificial islands further south in the waterway's Spratly archipelago.
Earlier in March, AMTI said China has almost completed constructions in least three of its largest man-made islands in the Spratly groups. The facilities would allow Beijing to deploy about 24 fighter jets and four larger planes, including refuelling or bomber aircrafts, to the area at any time. The country has also built hardened shelters with retractable roofs for mobile missile launchers on the islands.
Besides, China has maintained HQ-9 surface-to-air missile systems on Woody Island for more than a year. It is thought to have also deployed anti-ship cruise missiles to the island at least once in the past, according to the Japan Times.
An unnamed US official told Reuters that the presence of the fighter jet on Woody Island was not entirely surprising.
"It is already heavily militarised; no surprise we would be seeing military aircraft there," the official, who spoke on the condition of anonymity, said.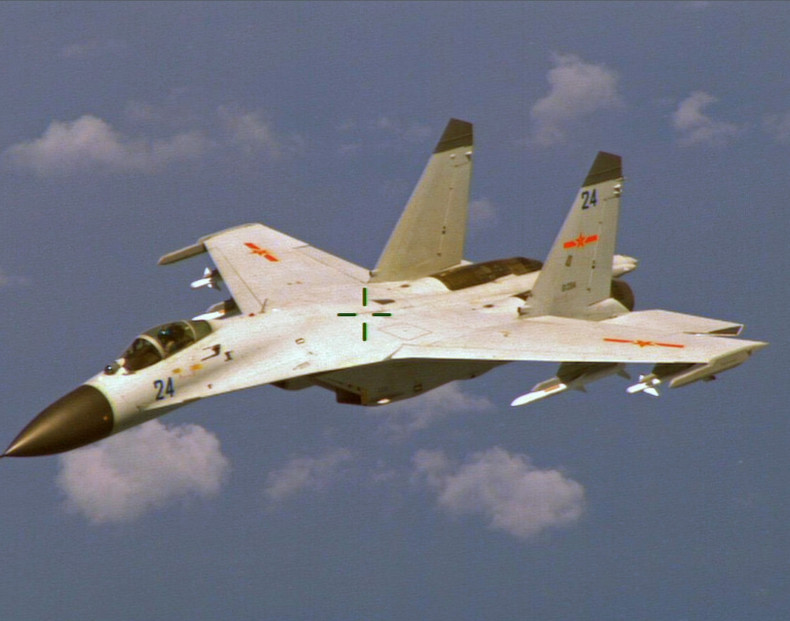 China is yet to confirm the think tank's report. But it has previously rejected the US' accusation that Beijing is militarising the South China Sea.
In the past, the US said that China deploying fighter planes to Woody Island on rotational basis was disturbing and has raised concerns over the communist country's intentions in the sea.
News of the latest fighter deployment comes as Trump is holding talks with Xi at the US leader's Mar-a-Lago resort in Florida. In their first meeting, the two are expected to discuss Washington's accusations that Beijing has been militarising its outposts in the South China Sea.