China is reportedly planning to send more surface-to-air missiles to the contested islands in the South China Sea from its mainland region. US intelligence agencies believe this deployment will be the first time Beijing has taken such a move in the hotly disputed islets of the mineral-rich international waterway.
The authorities arrived at the conclusion about Beijing's military expansion based on new satellite images from Hainan province in southern most part of China, which consists of various islands in the South China Sea, according to Fox News.
The missiles known as CSA-6b and HQ-9 have already been sent to Hainan, which is only a "temporary" location, and it is anticipated to be moved to the contested Spratly or Woody islands.
The CSA-6b weapon is reported to be a close-in missile system with a range of 10 miles as well as contains anti-aircraft guns. The HQ-9, on the other hand, is a long-range missile which can reach the target that is 125 miles away, and is thought to be roughly based on the Russian S-300 system, Fox news reported.
While Hainan is not a disputed island, Spratly is claimed by China, Taiwan, Vietnam, Malaysia and the Philippines. However, the 12 July tribunal at The Hague rejected Beijing's unilateral or nine-dash claims on the islands and condemned its activities on the sea, through which $5tn of maritime trade passes each year.
Although China has deployed surface-to-air missiles to Woodly Island before, earlier in February, it is yet to place heavy weapons in any of its seven man-made islets in the Spratly chain of islands.
Satellite images from a US think tank, from November showed that Beijing appeared to have built significant defence capabilities. It positioned anti-aircraft and anti-missile systems on the artificial islands that were constructed by China in the disputed waters.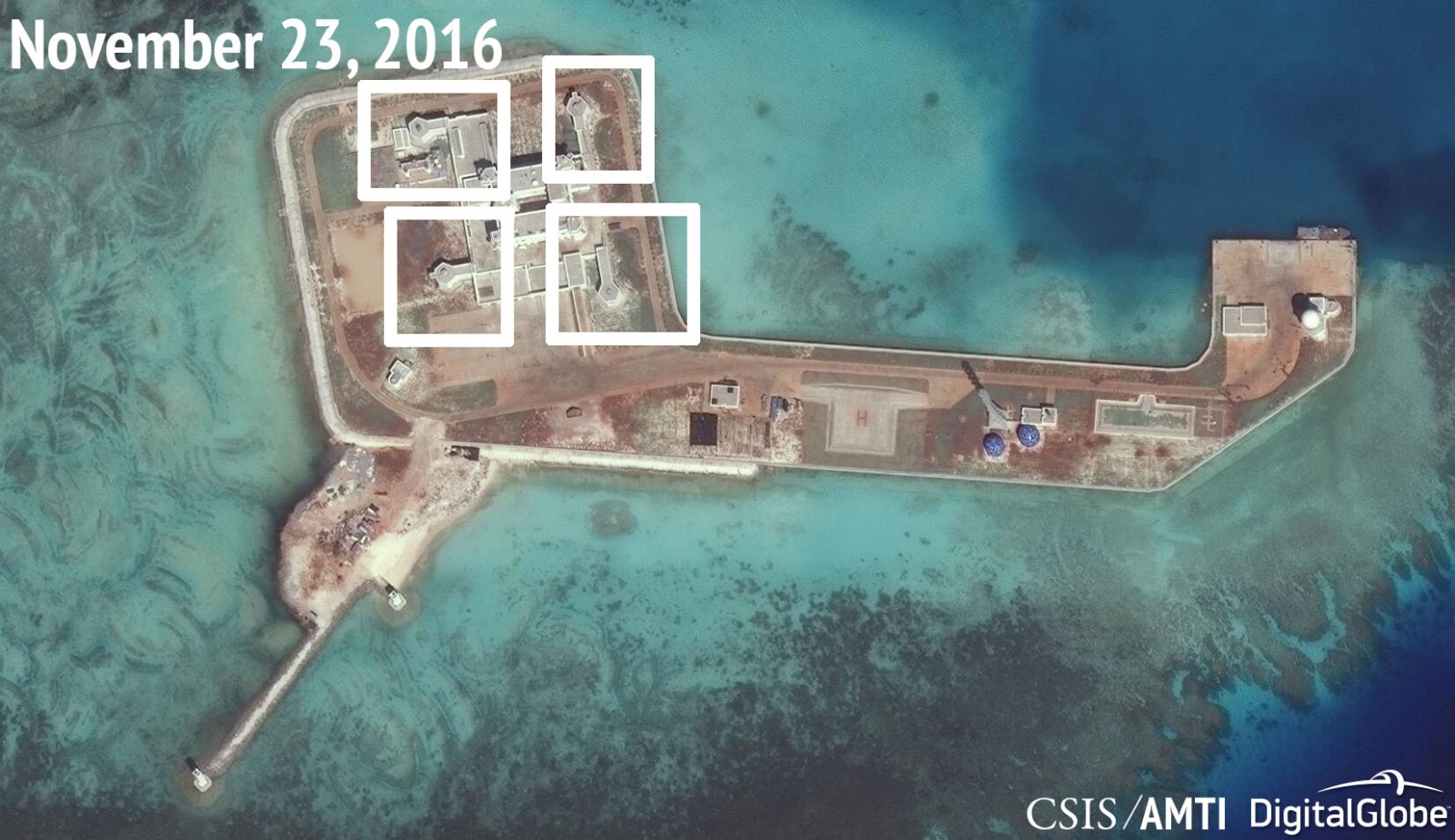 The reported installations were made despite the communist country's pledge to not militarise the islands in the Spratly archipelago. However, it has made rapid expansion in the recent few years, rising tensions among the warring parties in the region and the US. It has long expressed its desire in fortifying its man-made islands.
Beijing also flew a long-range nuclear-capable bomber, around the South China Sea for the first time since March 2015 reportedly in response to US President-elect Donald Trump's phone conversation with Taiwanese President Tsai Ing-wen that infuriated the Communist party.