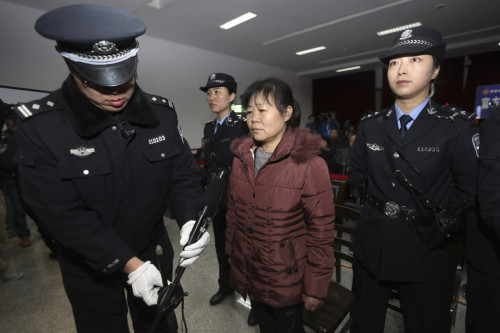 A Chinese doctor has been sentenced to death, with a two-year reprieve, for stealing babies and selling them to child traffickers.
Zhang Shuxia, admitted to stealing seven newborn babies, six females and a male, from a hospital in northwest Shaanxi province, where she worked, and selling them to human traffickers.
Death penalty with reprieve refers to a suspended death sentence in China, which is usually converted into life imprisonment after two years.
The doctor used to tell the parents that their newborn babies had congenital defects and convince them to give up their children, the Weinan Intermediate People's Court said.
Between November 2011 and July 2013, she handed over the infants to a ring of child traffickers who primarily banked on her for their operation in the central and eastern provinces.
The traffickers purchased female babies for 20,000 yuan ($3,310), but the male baby came with a price tag of 47,000 yuan ($7,800), which was then sold to a couple in central China's Henan province for 59,800 yuan ($9,900), according to USA Today.
The racket was uncovered last year after parents of the male baby born on 16 July, suspected human trafficking when their child was taken away from the hospital, and filed a case with the police on 20 July.
Zhang had told the parents that the baby had a fatal congenital disease and would die, persuading them to give up the child against their wishes.
Six of the babies were rescued following the police crackdown on the trafficking network, while one baby that was voluntarily abandoned and sold for 1,000 yuan ($165), died.
Police subsequently arrested Zhang and several other suspects involved in the ring.
She was an obstetrician at Shaanxi's Fuping Maternal and Child Healthcare Hospital.
Zhang's lawyer had tried to defend her saying that the parents had voluntarily given up their babies, and that her previous work at the hospital was honoured with a string of prestigious awards.
However, the court said that she wrote false reports for infants stating fake medical conditions.
"Zhang used her position as medical personnel to fabricate reports about the infants, saying they suffered from birth defects or diseases that were hard to cure," the court said in its judgement posted on the Court's verified microblog.
Child Trafficking in China
Child trafficking is rampant in China despite rigorous legal penalties, including death sentence.
In 2012, the Chinese police freed 181 children from two child trafficking gangs that led to an arrest of 802 suspects.
Traditional preference for male heirs in China, and a tough one-child policy have created a thriving domestic underground market for baby boys, while girls are often sold to intermediary adoption centres for foreigners, or are doomed to be raised as labour or household helps.
According to reports, Chinese government officials have often been a party to this illicit buying and selling of babies.
In 2009, as many as 80 baby girls in southern rural China were taken away from their parents who could not abide by the family planning laws, or failed to pay the required fine of about $3000 (£1,800), which is several times the average income of a farmer.
Southern Metropolis News reported that the girls were taken into orphanages and adopted by couples from the United States and European countries, even as local officials forged papers to complete the deals.
The recent case had provoked public outrage over the corruption and widespread abuses, which are commonplace in the country's medical system.