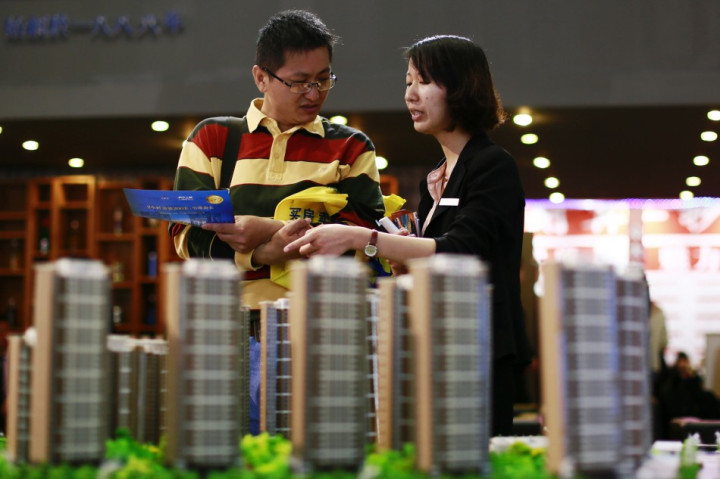 A raft of economic data coming in from China over the weekend points to how growth in the world's second biggest economy could be slower in the second quarter of 2013, suggesting the country's central bank could cut interest rates soon to propel the economy .
The pace of economic growth in China has slowed down to 7.7% in the first quarter of 2013 compared with 7.9% in the last three months of 2012.
"We had expected an L-shaped economic recovery in China and that the growth would stabilise at around 7.9%," Jian Chang, China economist for Barclays in Hong Kong, told Reuters. "We now think China's growth will stabilise at around 7.6% (this year). The possibility for the central bank to cut interest rates is now rising," Chang said.
Chang has cut her 2013 growth forecast to 7.4% from a previous 7.9% and her 2014 growth forecast to 7.4% from 8.1%, Reuters reported.
The weekend's data paints a gloomy growth picture. Exports grew 1% in May, their slowest pace in about a year, after a crackdown on currency speculation concealed as export trades. Imports were down 0.3% against expectations of a 6% growth, pulled down by lower commodity shipments, another sign of weakening demand in China. Factory output rose 9.2% for the year in May as against the 9.3% year-to-date increase in April.
Social financing, a broad measure of cash in the economy, was down to 1.19 trillion yuan as compared to 1.75 trillion yuan in April.
A 20.6% increase in property investment during the first five months of 2013 was lower than the 21.1% increase year-to-date in April.
Fixed-asset investment growth across urban China was 20.4% for the year against a 20.5 rise.
The Producer Price Index (PPI) dropped 2.9% in May against an expected average decline of 2.5%. The PPI had fallen 2.6% in April. Inflation growth too was slower in May with the Consumer Price Index (CPI) rising 2.1% from a year-ago. Economists polled by Dow Jones had expected an average increase of 2.5%.
The only positive cue came from May's retail sales which grew 12.9% for the year compared to a 12.8% year-to-date increase in April.
"The trade data reflects the sluggish domestic and overseas demand, signalling a slower-than-expected recovery in the second quarter," Shen Lan, an economist at Standard Chartered bank in Shanghai, told Reuters.
China's government will stimulate the economy with cash only when economic growth drops to 7%, analysts told Reuters last week, because its new leaders are more interested in reforming the economy, than stimulating it.
China needs to grow 7% annually to double per capita GDP by 2020, from the level in 2010, Li told business leaders in Berlin last month. Economists opine that reforms will play a key role this decade.
Economic reforms, such as the liberalisation of interest rates and allowing for greater population mobility, are expected to be tabled at a Communist Party meet later this year.
The Chinese administration has nothing to worry as long as the economy creates jobs, economists said, but that situation could change soon. China created 3.4 million new jobs in the first quarter of 2013, slightly higher than a year ago, showed labour ministry data. But the demand for workers has dipped.
A government survey of 84 top cities showed that the demand for workers in the first quarter was down 2.9% from a year ago.
The Chinese media has reported that the number of college graduates seeking jobs this year would surge to a record 7 million, up by 190,000 from last year, underlining the need for economic reform.