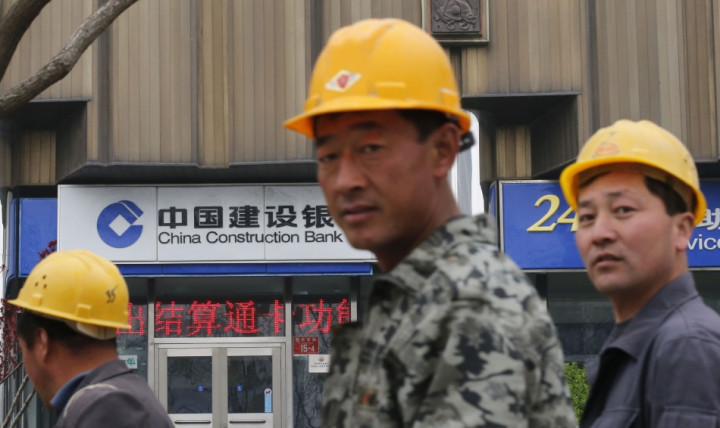 In the second quarter, the economy is forecast to grow at 8%, with consumer price index inflation growing at about 2.3%, the newspaper said, citing China's State Information Centre (SIC).
China's economic growth unexpectedly stumbled in the first quarter, falling to 7.7% from 7.9% in the fourth quarter of 2012. The decline was driven by reduced factory output and investment.
The SIC, however, estimated a slowdown in the country's export growth to around 10% in the second quarter from 18% in the first quarter due to rising trade protection.
Meanwhile, import growth is expected at around 8% this quarter, compared with 8.4% in the first quarter. China will release its April trade figures on 8 May.
"Although the external environment facing China has improved, our country's strong export growth rate cannot be sustained as demand is still not strong and trade protection rises," the paper quoted from the SIC report.
"As European countries are stuck in light recession, RMB real effective exchange rate will face even stronger pressure to appreciate due to increasing protectionism. Therefore, export cannot sustain rapid growth, while import may not be able to increase due to weak domestic demand."
The economic recovery in the second quarter will be supported by continued growth in infrastructure investment, according to the SIC. It expects a 21% growth in total fixed asset investment and an 18.2% growth in real estate investment in the second quarter.
In addition, consumption is expected to increase on employment growth, reforms in income distribution and higher minimum wages at some places. Sales of consumer goods would increase by 13.2% in the second quarter.
In line with the mild economic growth, prices are expected to remain stable with the consumer price index increasing marginally by 2.3% in the second quarter, while producer price index falling at a lower rate of about 0.8%, the report added.
The SIC report comes amid disappointing economic data for April, indicating a sluggish start for the second quarter. Growth in the manufacturing and services sectors slowed down in April, according to separate surveys.
The HSBC services Purchasing Managers' Index (PMI) fell to 51.1 in April from 54.3 in March. This follows an earlier released official non-manufacturing PMI of 54.5 in April, down from the March reading of 55.6.
The final April reading of a manufacturing PMI released by HSBC Holdings and Markit Economics was at 50.4, down from the preliminary reading of 50.5 and the March reading of 51.6. The official PMI showed a reading of 50.6 for April, down from a March reading of 50.9.