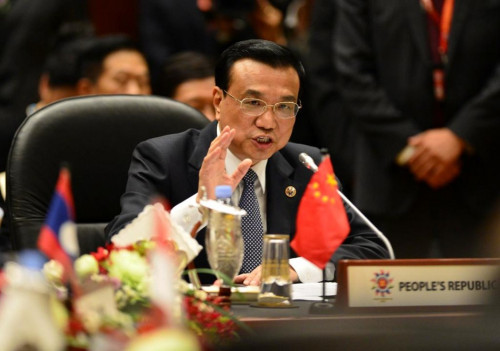 China's economic growth could exceed 7.5% in the first nine months of 2013, said Chinese Premier Li Keqiang, suggesting that Beijing's reforms drive has filtered through the world's second largest economy.
Speaking at the Association of Southeast Asian Nations (Asean) summit in Brunei, Li said his country's economy has "shown stronger momentum of steady growth" in the past few months.
He added that with indicators that mirror market expectations, such as the purchasing manager's index data, the economic outlook has improved.
China's statistics office will release third quarter growth data on 18 October. A Bloomberg poll of 33 analysts forecast a 7.8% growth rate for the July-September quarter, up from 7.5% in the previous quarter.
"We have confidence in fulfilling the targets set out for economic and social development" in 2013, said Li.
Xu Gao, chief economist at Everbright Securities in Beijing, told the news agency that China's economic rebound "is obvious in the third quarter, but whether the momentum can be sustained is open to question."
China's Economic Slowdown
Economic recovery may waver in the October-December fourth quarter, owing to a dearth of additional support policies and due to a high basis for comparison with last year, Xu added.
He expects the economy to expand by 7.7% in the third quarter and by 7.3% in the final quarter of the year.
Earlier in the week, Chinese President Xi Jinping said he expected the global economic recovery to be a "long and tortuous process" and added that a 7% growth rate for the Chinese economy was "within a reasonable and expected range".
Xi dismissed concerns of a hard landing for the Chinese economy.
He said that a "7% annual growth rate [would] suffice" to meet China's medium-term goal of doubling per capita income by 2020.
The Chinese economy expanded at an annualised rate of 7.6% in the first six months of 2013, slower than the 7.7% growth rate in 2012 and 9.3% in 2011.
In August, China's statistics office tried to calm investors and the public, who thought the Chinese economy was slowing down too rapidly, by announcing that it would expand by 7.5% this year.
China's new leaders are more interested in reforming the economy than stimulating it. Beijing wants to guide the economy away from debt-driven investments, in infrastructure and property, and towards a more sustainable path.
Beijing has announced measures to reduce red tape countrywide and implemented a series of market reforms to boost economic growth, which is expected to hit a 23-year low this year.
However, the government is treading with caution, when it comes to radical reforms. Analysts from top government think-tanks say the room for reform is limited in China as any dramatic shift in policy could exacerbate a growth slowdown and push the government to revert to tightly controlled market conditions.