China's home prices fell further in July 2014 over the previous month, two private surveys showed.
Prices of new homes in 288 cities fell 0.1% in July from June, the fourth straight drop on a monthly basis, a survey by real estate services firm E-House China Holdings showed.
However, home prices in July were still up 4.3% when compared to a year ago.
A separate survey by China Real Estate Index System (CREIS) showed average prices in 100 of the biggest cities fell 0.8% in July from June, the third successive monthly drop.
However, prices were still up 4.7% in July when compared to a year ago, CREIS said.
A Reuters poll showed that China's home prices were likely to rise by just 0.5% in 2014.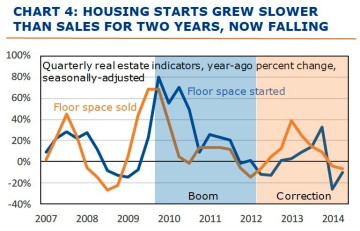 PNC senior international economist Bill Adams said in a note to clients: "…China's real estate and construction sectors are sagging as falling prices discourage housing construction and purchases. China's commercial housing market has, like private investment, been weak for over two years, in which builders have attempted to work through inventories built up in the 2010- 2012 housing boom by adding new projects more slowly than houses are sold.
"This correction has deepened in the first half of 2014 as average sales prices of commercial housing fell, by 1.5% from a year earlier; both housing starts and sales are down from a year earlier in the first half of 2014."
"The Chinese government has promised stronger investment in subsidised housing to offset the correction in commercial housing, but has struggled to pay for it. Unlike commercial construction, which during the boom generated robust tax revenue growth for local governments, affordable housing construction requires expensive subsidies that the Chinese government has so far hesitated to fund with deficit spending.
"The real estate correction will likely continue and reinforce a slowdown in general business investment," Adams added.
Official data showed Chinese home prices fell 0.5% in June from May, but were still up 4.2% when compared to a year ago.