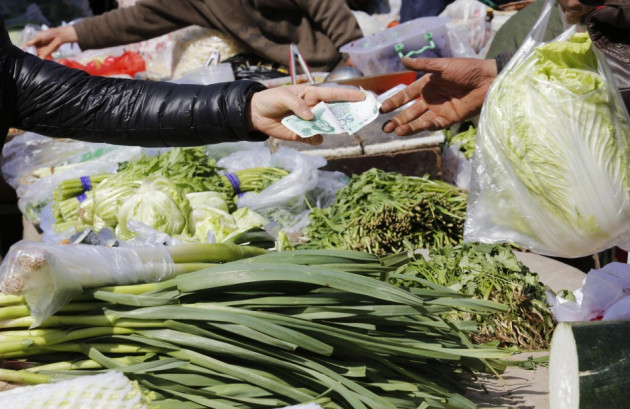 China's consumer price index (CPI) has declined significantly in March, reversing from a 10-month high recorded in February as food prices retreated amid fears regarding the bird flu outbreak.
China's National Bureau of Statistics (NBS) reported that consumer prices in the world's second-largest economy rose 2.1 percent in March. Economists were expecting an inflation rate of 2.5 percent for the month, while the country has set an inflation target of 3.5 percent for the year.
On a monthly basis, CPI fell 0.9 percent as compared to a 1.1 percent gain the previous month. In February the Chinese economy recorded a 3.2 percent annual increase in consumer prices as against a 4 percent rise in the same month a year ago.
The NBS also noted that the Producer Price Index (PPI) declined 0.9 percent year-on-year, compared with a 1.6 percent decline in February, on the back of the recent decline in raw-material prices.
Food costs, which accounted for more than a third of the country's inflation calculation, rose 2.7 percent in March, down from a 6 percent increase in the previous month, while rental price inflation rose by 0.1 percentage points to 2.9 percent.
China's inflation outlook has been complicated by the outbreak of bird flu, according to ANZ research.
"Meat prices could fall significantly in the next few months due to depressed demand, but inflation pressures will likely re-emerge in the second half of the year as the supply of the meat declines," analysts at the research firm said.
The factor along with strong capital inflows and rising property prices in the country would result in the central bank being less hawkish with the pace of net withdrawal of liquidity from the market, ANZ noted.
The People's Bank of China has taken measures to drain cash from the economy for seven straight weeks since the Lunar New Year holiday in order to counter inflationary pressure and to keep the property sector from overheating.
Having recorded an average economic growth of about 10 percent in the past three decades, China has entered into the list of world's biggest economies.
However, the country is expected to find it difficult to maintain the pace of growth given the weakness in the US economy and the financial crisis across Europe that hurt the export demands.
Further, China's efforts to cool its property market are expected to affect the economy's pace of expansion.