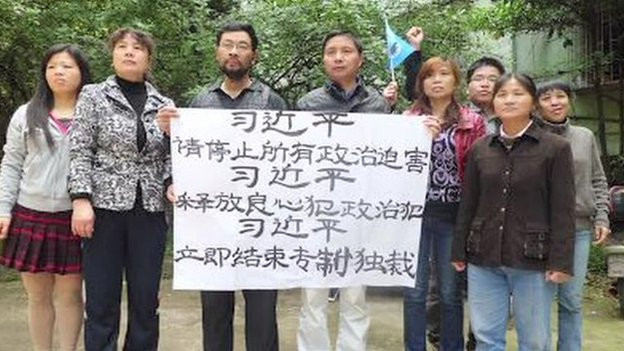 Three Chinese anti-corruption activists have been handed lengthy jail sentences for requesting that officials disclose their wealth.
Wei Zhongping and Liu Ping were both given six-and-a-half years in jail while a third activist Li Sihua received a shorter sentence of three years.
All three activists are linked to the New Citizens' Movement in China and were detained after taking photographs with banners which had messages requesting that Chinese officials declare their wealth.
The activists called for a declaration of assets by the Communist Party and its government officials.
They faced trial at a high-security court in Xinyu, Jiangxi province, last year.
Human rights organisation Amnesty International condemned the charges, calling them "preposterous".
The group said that Liu and Wei were convicted of other charges including "gathering a crowd to disrupt order in a public place" and "using an evil cult to undermine law enforcement".
"The charges against these activists were preposterous from the very beginning," said Amnesty's William Nee.
Even the South China Morning Post, a publication with close links to Beijing, called the punishment "harsh".
Chinese premier Xi Jinping has fought a campaign of anti-corruption himself since being elected in 2012 but the Chinese hierarchy have cracked down on grassroots organisations who have made similar demands.
The New Citizens' Movement is a network of activists who campaign for greater civil rights and transparency within China.