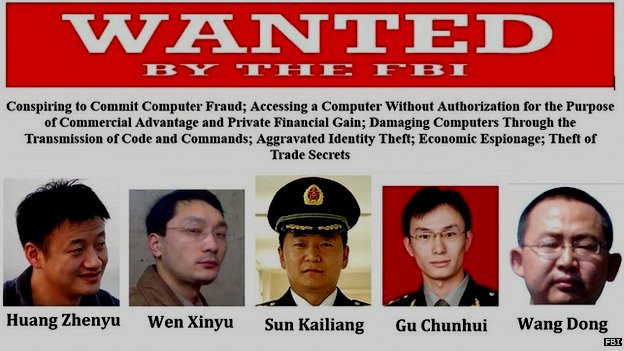 The Chinese government has issued a strongly-worded criticism of the indictments laid against five military personnel for stealing trade secrets from US companies - accusing the US government of being "deceitful" and employing double standards.
On Monday, US attorney general Eric Holder revealed that five Chinese military officials had been charged with offences relating to computer hacking and economic espionage directed at six American companies involved in the nuclear power, metals and solar products industries.
On Tuesday, the Ministry of Defence in China published a strongly-worded reaction to the indictments against its personnel, expressing "strong indignation and resolute opposition."
The statement denied any involvement by the Chinese government or military in stealing trade secrets from US companies:
"China's position on the issue of network security is consistent and clear. China is a staunch defenders of network security, the Chinese government and the army never engaged or were involved in any theft of trade secrets by network activity."
Deceitful nature
The statement accuses the US of double standards when it comes to accusing other countries of spying on them, listing Wikileaks and Edward Snowden as examples of when the US has been shown to be monitoring other countries.
"The US' deceitful nature and its practice of double standards when it comes to cyber security have long been exposed, from the Wikileaks incident to the Edward Snowden affair" the statement reads.
While the US openly admits to carrying out cyber-espionage, it says that it does not steal trade secrets from companies in other countries and pass that information on to companies in the US - which is what it has accused China of doing.
In March German newspaper Der Spiegel revealed the NSA had been monitoring high level communications between executives at Chinese company Huawei, which makes a large percentage of the world's networking equipment.
Healthy, stable and reliable
China has accused the US of breaking the trust which had been established between the two countries during recent talks, with the US breaking their "commitment to building healthy, stable, and reliable military relations".
The Chinese Assistant Foreign Minister Zheng Zeguang has lodged a "solemn representation" with US ambassador Max Baucus following the indictments being handed down.
The five personnel were all accused of being part of the infamous Unit 61398 of the Third Department of the Chinese People's Liberation Army (PLA) which was first uncovered in a report from security firm Mandiant in early 2013.
The report said the group had been infiltrated over 140 companies - mostly in the US - for the last seven years.
On Tuesday the state-run Xinhua News Agency reported that in a three-month period this year a total of 1.18 million computers in China were directly controlled by 2,077 machines in the United States via Trojan horse or zombie malware - a fact alluded to in the Ministry of Defence statement.