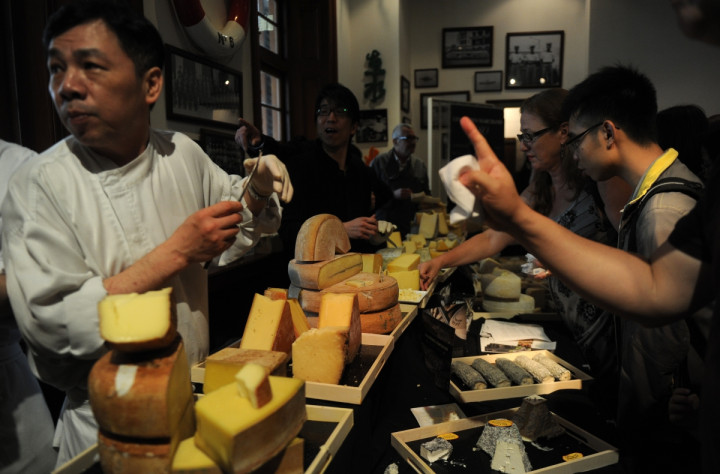 China has lifted its ban on the import of UK cheese, two months after slapping an embargo on the dairy goods.
A Chinese delegation put the trade on hold in April, after one factory was deemed to have subpar food safety practices.
Inspectors said there were problems with maintenance, air sanitisation, raw milk temperatures and chemical storage. However, it was later revealed that the factory was not involved in exporting cheese to China.
"We appreciate the Chinese authorities' help and support to resolve this quickly. The Chinese market is vital for the UK with exports of food, feed and drink worth £257m last year," said a Defra spokesperson.
While dairy is not a traditional part of Chinese cuisine, its use has been growing, with western exporters scrambling to get a foothold in the nascent market.
Last year, China accounted for just 0.1% of the UK's cheese exports, with a total volume of 11.5 tonnes. Before the ban came into effect in April, though, the UK had already exported more than double that amount in the first four months of 2014.
In 2011, New Zealand provided the lion's share of China's cheese imports (41.8%), followed by Australia (20.6%) and the US (20.49%).
A stumbling block of the proposed free trade agreement between China and Australia has been Canberra's insistence on full access to China's agricultural produce market, as it attempts to surpass its antipodean rival in the cheese sector.
An agreement between China and New Zealand from 2008 allows 35% of New Zealand goods into China to be tariff-free.
The market is growing at 30% per year, as Chinese consumer tastes continue to evolve, with much of the consumption coming from aspirational middle classes.
One impediment to dairy growth has been the health impact on Chinese people. It's thought that more than 92% of Chinese people have some degree of lactose intolerance. However, the figure falls among the younger in society.