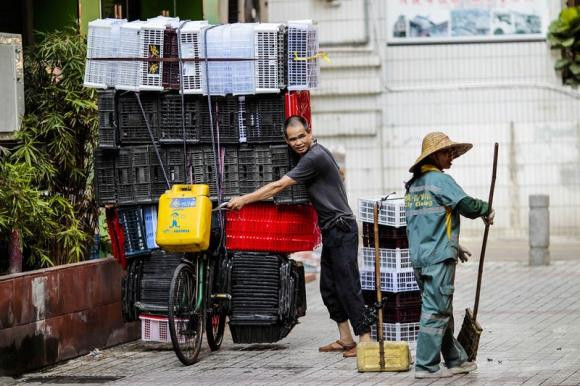 China's imports rebounded in September on the back of lower commodity prices, but the country's trade growth remains sluggish and is not expected to lift economic growth in the third quarter.
Imports rose 7% year-on-year in September, compared to a 2.4% decline in August. Economists expected a 2% decline for the month. China's iron ore imports accelerated to 13.5% in September, compared to 8.5% in August.
Meanwhile, exports improved 15.3% in the month, compared to a 9.4% growth in August and analysts' expectations for a growth of 12%.
Export growth during the month was primarily due to improving demand from advanced economies. Shipment to the US and the EU grew 15.3% and 14.9% respectively in September, compared with 9.4% and 12.1% in August.
China's exports to Hong Kong accelerated to 34.0% in September, versus a 2.1% decline in the prior month, coincident with the renewed RMB appreciation in the past few months.
Trade balance was $30.9bn (£19.2bn, €24.5bn) during the month, compared to $49.8bn in August.
However, China's trade grew only 3.3% in the first three quarters of 2014, as the country targets a 7.5% growth for the full year. The world's second-largest economy did not achieve its trade growth target of 8% in 2013 and 2012.
"While huge trade surplus in Q3 will likely provide some positive impetus, the decelerating momentum in domestic demand actually points to downside risk to Q3 GDP growth," said economists at ANZ Bank.
They expect China's GDP to grow only 7.1% in the third quarter, the slowest pace since the global financial crisis.
"Meanwhile, large trade surplus will continue to add appreciation pressure on RMB. Notably, FX purchase data suggest that China's central bank has significantly reduced the intervention in the foreign exchange market since June," they added.
"The reducing intervention, plus the recent USD strengthening, will heighten the volatility of RMB."