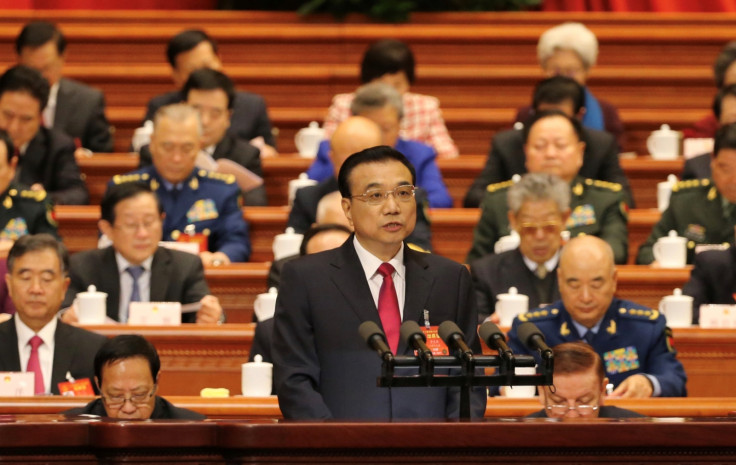 China has set an economic growth target of 6.5% for 2017 and unveiled plans to bring down its soaring debt levels.
Premier Li Keqiang told more than 3,000 Communist Party delegates at the annual National People's Congress (NPC) in Beijing that the government will continue to pursue a proactive fiscal policy and a prudent monetary policy.
The world's second-largest economy expanded 6.7% last year – the weakest expansion recorded in 26 years, but falling within Beijing's growth target of 6.5% to 7%.
Li warned that China faced "more complicated and graver situations" this year both at home and abroad.
"Both the de-globalisation trend and protectionism are growing," he was quoted as saying by the Associated Press.
"There are many uncertainties about the direction of the major economies' policies and their spillover effects, and the factors that could cause instability and uncertainty are visibly increasing."
Li said the government would continue to push through supply-side reforms and urged vigilance over risks from non-performing assets and debt defaults.
China front-loaded its stimulus programme in the first half of 2016 to boost a sluggish economy, with banks lending billions of dollars to businesses to maintain cash flow.
"We must be fully alert to the build-up of risks related to non-performing assets, bond defaults, shadow banking and internet finance," Li said.
A work report released by the National Development and Reform Commission at the opening of the NPC said the government would take steps to cut surplus steel and coal production.
Li also pledged to create 11 million new jobs in 2016 and downsize "zombie" companies that were underperforming.
"As overcapacity is cut, we must provide assistance to laid-off workers," he was reported as saying by Reuters.
"This year's target for urban job creation is 1 million more than last year, underlining the greater importance we are attaching to employment."
The NPC, held every year in the Great Hall of the People in Tiananmen Square, is viewed as a largely ceremonial affair by analysts, with legislative policy decisions for the year typically green-lighted by the party hierarchy months before the event.