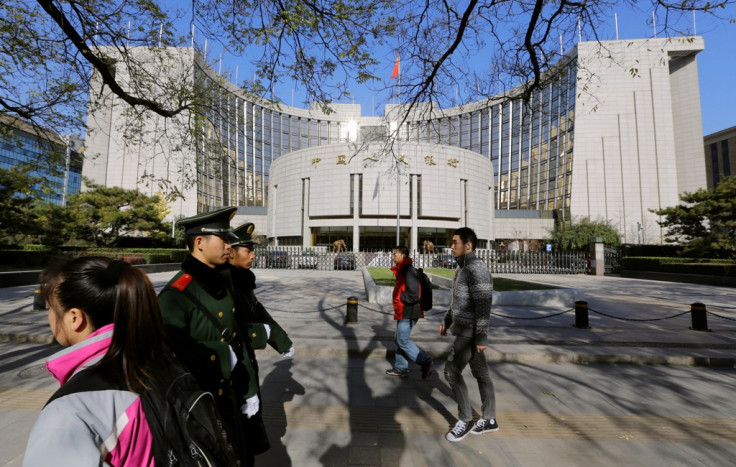 China has asked its banks to issue more loans in the final months of 2014 and has relaxed limits on their loan-to-deposit ratios to help hit a record new lending target as Beijing accelerates efforts to boost declining economic growth.
China's central bank will now allow banks to lend an unparalleled 10tn yuan ($1.62tn, £1.03tn, €1.3tn) for all of 2014, up from what Chinese media have said was a previous target of 9.5tn yuan, Reuters reported.
Chinese banks have disbursed 8.23tn yuan worth of loans between January and October, which means they will have to expedite the pace in November and December to meet the new 10tn yuan target, the report added.
The People's Bank of China (PBoC) will also allow banks to lend more than 75% of their deposits, instilling flexibility in a rule that was designed to control lending activity.
Pursued by Reuters, the central bank was not immediately available for comment.
Growth and Inflation
ANZ Research said in a note to clients: "Chinese authorities will likely tolerate a slower growth rate at around 7% under the framework of 'new normal' economy and will strike a balance among social, environmental, and economic targets.
"We forecast that China's GDP will grow 6.8% y/y in 2015 (6.7% in 2016 and 6.4% in 2017). China's CPI inflation will remain tepid at 1.8% next year."
PBoC's move comes a day after data showed that China's inflation rate slipped to a five-year low in November, to 1.4%. Dismal data raised expectations that the Communist regime will move aggressively to intercept the risk of deflation.
PBoC Rate Cut
The PBoC, on 21 November, unexpectedly cut interest rates in an attempt to invigorate the world's second-largest economy, where annual growth could drop to its lowest in 24 years this year as cooling domestic investment and a slowing housing market weigh on activity.
China has not officially announced its lending target for 2014, but Sheng Songcheng, the head of the statistics department at the central bank, was quoted by local media in July as saying that banks were lending more to the housing market to support the cooling property sector.
Sheng said back then that banks were displaying "forceful" support for the slowing realty market and that they were likely to issue 9.5tn yuan in new loans.
Bank lending is a key part of Chinese monetary policy as the government tells commercial banks how much to lend and when to lend in a year.