China's First Lady Peng Liyuan a Censors' Headache
Internet frenzy over Chinese president Xi Jinping's singer wife Peng Liyuan's bags, fashion sense - and controversial past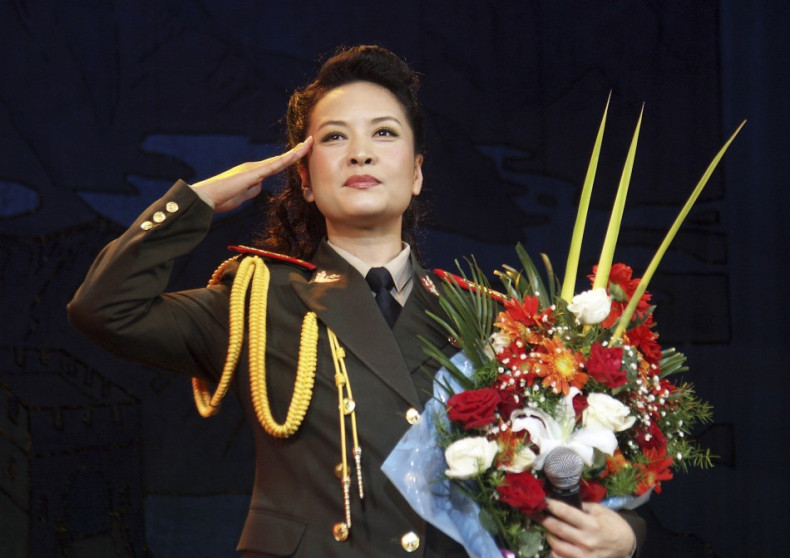 Chinese censors are having a hard time coping with the internet frenzy surrounding new president Xi Jinping's celebrity wife, Peng Liyuan.
Communist party officials are frenetically wielding the censorship axe, blocking search keywords and scrubbing off the internet controversial pictures to contain a tide of excitement triggered by the glamorous first lady.
They seem to be struggling, however, in finding the correct balance between allowing Peng to carry out her undeclared mission to build soft power and maintaining the traditional façade of austerity that party propaganda imposes on officials.
"In contemporary Chinese politics you don't stand out," Dr Ross Anthony, research fellow at the Centre for Chinese Studies at South Africa's Stellenbosch University told IBTimes UK. "Everyone looks the same and acts the same; they even all dye their hair pitch-black."
Xi seems to be challenging this custom by giving a more personal touch to the presidency - with a big hand from his wife.
Peng, a 50-year-old folk singer, is a hugely popular figure in China and and had broken with the Communist party's tradition of first ladies standing quietly behind their husbands.
Fashion victims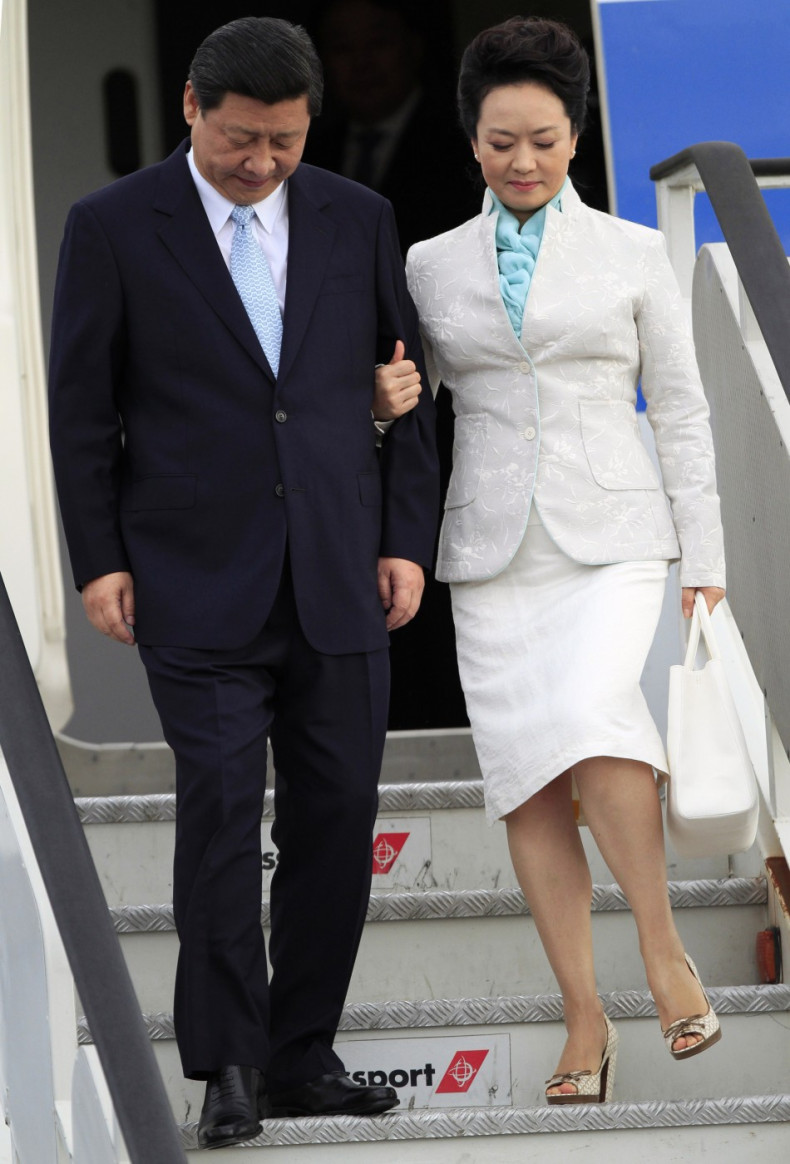 The glass-cracking soprano accompanied Xi, who she married in 1987, on his first official trip abroad since he was confirmed president by China's rubbers-stamp parliament, earlier this month.
The four-state trip, which covered Russia, Tanzania, South Africa and Republic of Congo was of great political significance but most of China's attention was focused on the presence of Peng.
Pictures of the couple stepping off a plane arm in arm in Moscow and in Dar es Salaam went viral on Chinese microblogging sites.
Fashion bloggers and journalists commented positively on Peng's style, triggering a frenzied internet race to identify the brands she was wearing.
China Vogue
"It's the first time that China's first lady appears like a modern woman. She dressed very well - with taste and confidence," said Zhang Yu, editor of China's Vogue magazine.
China's state owned news agency, Xinhua, welcomed an "unexpected surge in interest in domestic fashion brands" that followed her appearance.
However, searches for "Peng Liyuan" and "First lady" were quickly blocked on microblogging site Sina Weibo, along with traditionally more sensitive searches such as "Huangpu River and dead pigs," China Digital Times reported.
Chinese women's hunger for a prominent female role model was roused by a photoshopped picture of Xi holding Peng's handbag as they pair walked down the aircraft steps in Dar es Salaam. In the original snap Peng carried her own bag.
Despite favourable comments by netizens - some describing Xi as "China's best husband" - the altered picture was soon taken off the web.
A fan page of the first lady named "Guo Mu [national mother] Fan Club" was also shut down.
"There's nothing sensitive [on the site]," the owner of the page, Wang Jian, a 28-year-old student, told South China Morning Post. Wang explained that the number of visits to the page rocketed as soon as he named it after Peng.
Tiananmen Square massacre controversy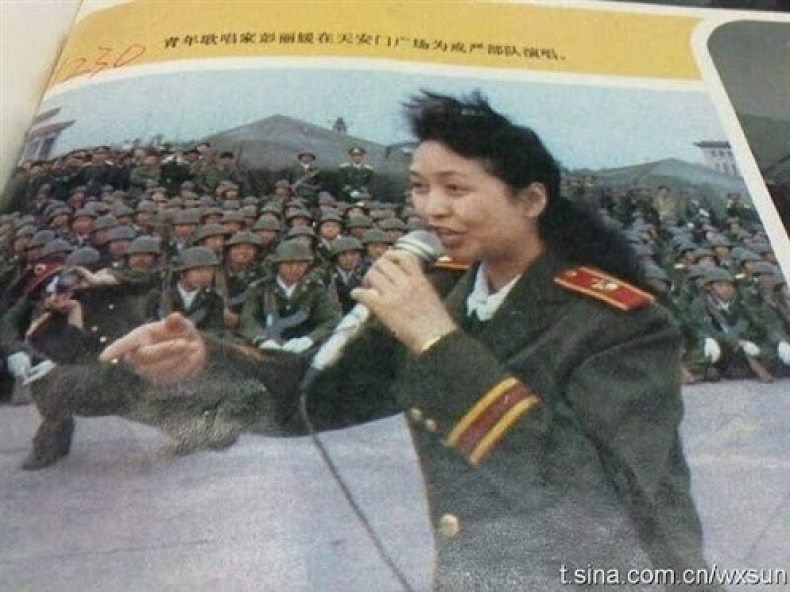 As the presidential couple arrived in Durban, where Xi attended the Brics summit, a 1989 photo of Peng singing to troops after their bloody crackdown on pro-democracy protesters in Tianamen Square started circulating on the web. That, too, was swiftly taken down.
In the picture Peng is shown with her windswept hair tied back in a ponytail, as she sings to helmeted and rifle-bearing troops in the Beijing square where hundreds of demonstrators were killed.
The picture is in stark contrast to the stylish image now being promoted to build support for Xi. It also threatens to revive buried memories of the massacre, triggering internet discussions on the issue that are not welcomed by party elites.
"We have a lot of people hoping that because Xi Jinping walks around without a tie on and his wife is a singer who travels with him on trips that maybe we're dealing with a new kind of leader but these images remind people that this is the same party," said Kelley Currie, a China human rights expert for the pro-democracy Project 2049 Institute in Arlington, Virginia.
"It's using some new tools and new techniques, for the same purposes: to preserve its own power."