China has strongly opposed the deployment of a US anti-missile defence system in South Korea, hours after defence chiefs from Washington and Seoul announced that the system would be in place by this year.
Chinese foreign ministry spokesman Lu Kang reiterated Beijing's opposition to the Terminal High Altitude Area Defence (Thaad) system during a daily news briefing session in Beijing on Friday (3 February).
China is reported to have taken as many as 43 retaliatory actions against South Korea since it made a joint announcement with the US about the deployment in July last year.
A South Korean think tank said China targeted 23 South Korean entertainment sectors while 15 cases involved trade goods. The remaining five cases pertained to diplomatic, political and military matters, South Korean state news Yonhap reported.
The apparent retaliation meant South Korean entertainers were banned from performing on the mainland. Besides, popular South Korean trade goods like batteries for electric cars and cosmetics were subjected to stricter import standards.
The numbers were tallied by the state-run Korea Institute for National Unification, which said Beijing's retaliation was spilling over into other sectors and becoming more aggressive.
"There's a likelihood of Chinese boycott of South Korea goods or protest rallies against South Korea, caused by nationalist sentiment in China," the institute said.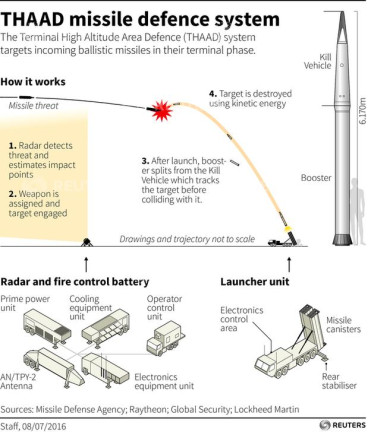 China had also recently rejected applications by South Korean carriers to add charter flights between the two countries, which reportedly hit Seoul's tourism industry. The move took place just ahead of the busy Chinese New Year holiday season.
Beijing has long been protesting that the decision to deploy Thaad would undermine its own security interests in the region despite the US and South Korea assuring that the deployment was intended only to contain Pyongyang's continued missile and nuclear threats. But Beijing argues that the anti-missile defence system will do nothing to ease tensions on the Korean peninsula.
"No other nation needs to be concerned about Thaad other than North Korea," James Mattis, the new US defence chief, said on Friday (3 February). He is completing his two-day visit to Seoul, the first senior leader in President Donald Trump's new administration to make an overseas visit.
Mattis also warned North Korea of 'overwhelming' response if it chose to use nuclear weapons, while assuring Seoul of continued support in the face of Pyongyang's missile threats.