China and Russia sign agreement ushering in 'new era' of cooperation
Xi restated China's "neutral posture" on Ukraine while praising his "open and friendly" discussions with Putin.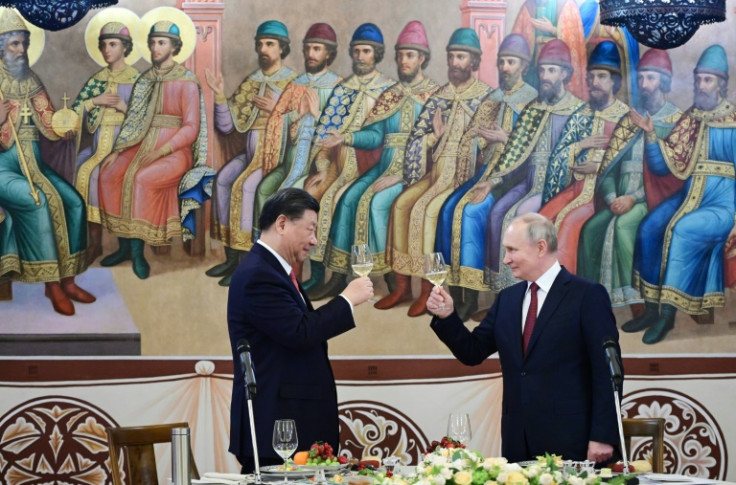 Chinese President Xi Jinping claimed to have signed an agreement with his Russian counterpart Vladimir Putin moving bilateral relations into a "new era" of collaboration. The two leaders called for "responsible engagement" to end the Ukraine conflict.
Xi's visit to Russia criticised
There has been widespread scepticism of China's stance on settling the crisis, with the main concern being that Beijing has not yet made any proposals that represent Ukraine's demand that all Russian forces leave its land.
Xi's visit was criticised by U.S. Secretary of State Antony Blinken on Tuesday for occurring just days after Hague-based International Criminal Court's arrest warrant for Putin.
"We signed a statement on deepening the strategic partnership and bilateral ties which are entering a new era," Xi said following talks with Putin in the Kremlin on Tuesday. He added that China and Russia should work more closely to push forward greater "practical cooperation".
China and Russia's economic cooperation
In turn, Putin said "all agreements have been reached" and that economic cooperation between Moscow and Beijing was a "priority" for Russia.
Days after Putin received an arrest warrant from the ICC for crimes committed in the Ukraine war, where Russian forces have made little headway in recent months despite incurring significant losses, the Chinese leader paid a visit to Moscow.
The discussions were meant to solidify the "no limits" alliance the two leaders declared in February of last year, fewer than three weeks before Russia invaded Ukraine.
Beijing "guided by the ideals of the United Nations... and encourage a peaceful conclusion," the Chinese leader remarked in reference to the situation in Ukraine.
"We always for peace and dialogue," he continued.
Putin states Ukraine and the West not yet prepared for peace
In an unified declaration, the West was accused of engaging in well-known practises such undermining global stability and invading the Asia-Pacific area with NATO.
Putin stated that a peace settlement might be built on a Chinese proposal to stop the conflict, but that Kyiv and the West were not yet prepared.
"We believe that many of the provisions of the peace plan put forward by China are consonant with Russian approaches and can be taken as the basis for a peaceful settlement when they are ready for that in the West and Kyiv. However, so far we see no such readiness from their side," Putin said.
China's plan for de-escalation and ceasefire in Ukraine
China's 12-point plan for a de-escalation and eventual cease-fire in Ukraine lacked specifics on how to put an end to the fighting.
Given Beijing's failure to denounce Russia's invasion of Ukraine, the United States has dismissed the plan and claimed that a ceasefire would lock in Russian territory gains and give Putin's troops more time to reorganise.
U.S. urges China to put pressure on Russia
The White House responded to the meeting by claiming that China's attitude was not impartial and urging Beijing to put pressure on Russia to leave the sovereign territory of Ukraine in order to put an end to the war.
Putin blasted Western nations for battling "to the last Ukrainian" after their meeting with Xi and welcomed the strengthening economic, energy, and political relations between China and Russia.
Xi restated China's "neutral posture" on Ukraine while praising his "open and friendly" discussions with Putin. He also advocated for communication.
Although saying that Russia must withdraw its soldiers from Ukraine and stressing the significance of Ukraine's territorial integrity, Kyiv had welcomed China's diplomatic intervention.
Volodymyr Zelenskyy, the president of Ukraine, said on Tuesday that Kyiv had urged Beijing to support a Ukrainian peace plan to stop Russia's war in Ukraine, but that it was still awaiting a response.
Putin looks to displace Europe as its primary gas consumer
The Power of Siberia 2 pipeline, which would transport 50 billion cubic metres (bcm) of natural gas annually from Russia to China via Mongolia, was also advanced due to the deal.
Putin declared that after all agreements on a planned pipeline to transport Russian gas had been reached between Russia, China, and Mongolia, Moscow was prepared to increase oil shipments to Beijing.
The need for the pipeline has grown as Russia looks to displace Europe as its primary gas consumer.
Russia's news agency, TASS, reported that the two leaders also discussed the internet and agreed that they stand "against militarisation of information and communication technologies and support multilateral, equal and transparent management of the Internet".
"[They] support creation of a multilateral, equal and transparent global management system of the Internet with the support of sovereignty and security of all countries in this sphere," TASS quoted the agreement as saying.
China Russia collaboration
Putin praised the "prosperity" of the Russian and Chinese people at a formal dinner that took place after the talks. He asserted that there were "really infinite potential and prospects" for Russian-Chinese collaboration.
When Putin faces battle against what he perceives as a hostile West determined to hand Russia a "strategic defeat," Xi's official visit was a huge boost for him.
The Japanese prime minister made a rare, unannounced visit to Kyiv at the same time as Xi and Putin's meeting, underscoring Tokyo's support for Kyiv in its struggle against Russia's invasion.
© Copyright IBTimes 2023. All rights reserved.