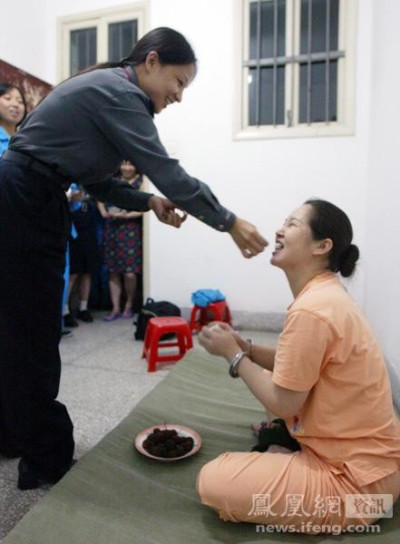 Haunting images of four women's final moments on death row have appeared on the internet eight years after their excecution in China for drug smuggling.
The pictures, taken in 2003, show inmates He Xiuling, Ma Qingxiu, Dai Donggui and Li Juhua during their last night in prison. The surprisingly intimate and poignant images include 25-year-old He Xiuling being spoon fed dumplings by a prison warden, and Dai Donggui trying on a new outfit brought at her request by a woman police officer.
All four women were sentenced to death for drug trafficking and were executed on Jun. 24, 2003 by a shot to the back of the head. They were among 20 other convicts to die that day.
China has one of the higheste execution rates in the world. The Dui Hai Foundation estimates that 10,000 people were executed in 2005 alone, although the exact figures officially remain a state secret.