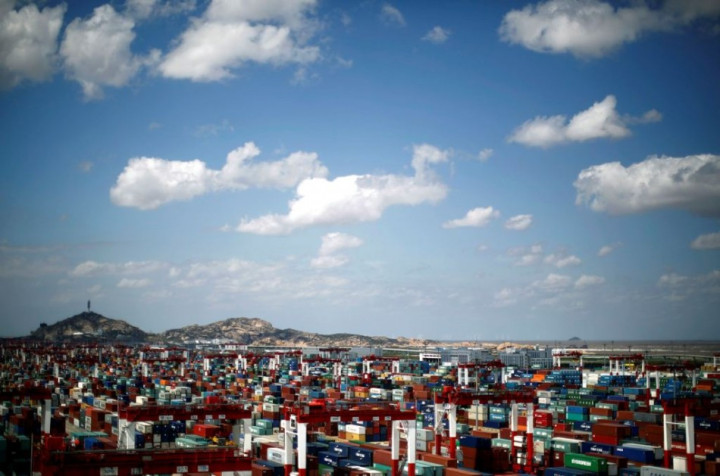 With the planned Shanghai free trade zone (FTZ) set to open next week, analyst opinion on the zone's ability to boost the world's second largest economy remains divided.
The proposed 29-square-kilometer zone is expected to house the offices of foreign banks, telecoms firms and foreign websites, including Facebook and Twitter, which are blocked on the mainland owing to security concerns.
However, eight of the 17 analysts polled by Bloomberg said the proposed Shanghai FTZ would have little or no impact on China's slow-moving economy.
Eight other analysts said the proposed development would add between 0.1 percentage point to 0.5 point to China's GDP growth over the next five years.
One analyst said the country's headline growth would increase by 0.5 point to 0.9 point.
The findings come just as preparations are underway to officially open the Shanghai FTZ on 29 September.
The FTZ will include the Yangshan port zone, the Pudong airport zone and the Waigaoqiao bonded zone and logistics park. Goods stored within the FTZ would not attract value added taxes or other tariffs.
"The Shanghai free trade zone is going to be a hotbed of liberalization and will have a huge economic impact in that area," said Louis Kuijs, chief China economist at Royal Bank of Scotland Group in Hong Kong.
"But in our understanding it will be, especially in the first years, quite shielded off from China's wider economy. So the impact on the macro economy isn't going to be large."
Miao Hui, the chief China economist at Daiwa Capital Markets in Hong Kong, said the FTZ would benefit the wider economy given that it would generate 200bn yuan to 300bn yuan (£31bn, €36bn, $49bn) in investments, which is "very significant" at 0.6% of the country's GDP.
"Most of the investment is definitely in that area but of course there will be spillover," Miao said.
"If you build a modern office tower you need to buy steel, cement, all these things from the rest of China."
Global interest in the FTZ is running high, especially on news that China had supposedly decided to lift a ban on politically sensitive websites, such as Facebook, Twitter and The New York Times, in the free-trade zone.
An earlier media report said London-based banks HSBC and Standard Chartered and Hong Kong-based Bank of East Asia would be the first three foreign banks permitted to open branches in a proposed free trade zone in Shanghai.
Building a Better Business Environment
The move to set up a free-trade zone comes as Beijing announced measures to reduce red tape countrywide and implemented a series of market reforms to boost economic growth, which is expected to hit a 23-year low this year.
Earlier in the year, China scrapped business and value-added taxes for six million small businesses, cut red tape for importers and exporters, simplified foreign exchange rules for the services industry and allowed small companies to issue more bonds.
The country's central bank pledged to improve the financial environment to make it easier for small businesses to access funds.
The moves follow Chinese Premier Li Keqiang's promise in March, as he began his term, to tackle bureaucracy and cut red tape in the world's second largest economy. Li vowed to provide a more level playing field for private enterprise and give markets a bigger role, all in a bid to boost sluggish economic growth.