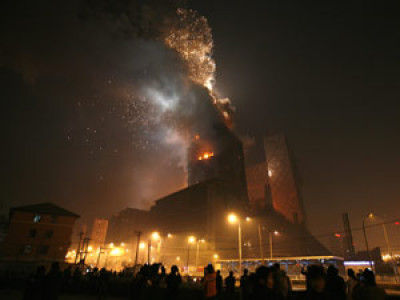 Investigators in China believe a three-year-old girl who was playing with a lighter started a fire that killed 12 and injured many others.
The killer blaze erupted at a clothing workshop in Junbu in the southern province of Guangdong, the official Xinhua news agency said.
The toddler, whose father owned the unofficial workshop, is thought to have ignited a stack of sponges with the lighter, according to local investigators.
The owner turned himself in after he was found to have been illegally using a residential building as a workshop, which violated a range of fire safety laws including insufficient exits and a shortage of fire-extinguishing equipment, the report said.
The families of those killed in the fire have been compensated; the amount was not disclosed, however.
Workplace safety standards can be poor in China, where fatal accidents happen regularly at mines and factories.
A fire at a poultry plant in the north-eastern province of Jilin last June killed 120 and injured at least 70. The incident was China's worst industrial disasters in recent years.
A few months later, six children and one young adult were killed during a fire at an illegally run orphanage in Henan province's Lankao.
A fire at the Dongdu building in Luoyang, Henan Province killed 309 people in 2000. Among the dead were construction workers and nightclub patrons who were attending a gala celebration for Christmas Day.
In 2011, China recorded more than 125,400 fire accidents which killed more than 1,100 people, and accounting for over $335m (£219m) in economic losses.
The Public Security Bureau noted that fires on construction sites rose in 2011, up 5.7% from the year before. Similarly, the number of fires in agricultural factories increased by 8.9% from 2010.
Factory bosses failed to obey safety procedures, using heat sources and electricity in unsafe ways, said the Public Security Bureau.