China wants the Vatican to take a more flexible and pragmatic stand towards improving relations with the country, Wang Zuoan, head of the State Administration for Religious Affairs, said on Tuesday (27 December).
Beijing is hosting the ninth National Congress of the Chinese Catholic Representatives. As many as 365 Catholic representatives from 31 provincial-level regions around China and officials from other religious organisations in the country are attending the three-day event, which was inaugurated on Tuesday.
Addressing the congress, Wang said the Chinese government's position on improving ties with the Vatican has been "long-standing and consistent". He added: "China hopes the Vatican can adopt a more flexible and pragmatic attitude, and takes actual steps to create beneficial conditions for improving relations."
The Vatican and the Beijing administration have been engaged in a decades-old rift over who has the ultimate authority over the Catholic churches in the country – the Pope or the government. The country's Catholic believers are reportedly divided into two groups – one loyal to the Pope while the other follows the government-controlled national catholic community.
The biggest sticking point between the two parties is who should appoint senior clergy for the country's churches. China reportedly prefers its local Chinese Catholic community to name bishops, refusing to accept the Vatican's intervention. China considers the Pope the head of a foreign state who has no right to meddle in Beijing's affairs, Reuters reported.
Pope Francis is trying to bridge the differences and improve ties with China that were soured since the expulsion of foreign missionaries from the country in 1951 after Communists took over the reins, China's Global Times reported.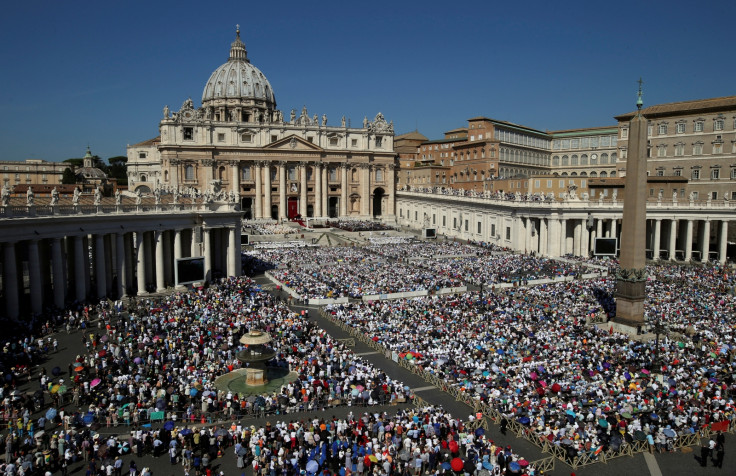 Last week, Vatican spokesman Greg Burke said it was "certain that all Catholics in China are waiting with trepidation for positive signals that would help them have trust in dialogue between civil authorities and the Holy See and hope for a future of unity and harmony".
However, Wang called on the local Catholic communities to "lead Catholic personnel and followers in line with the CPC [Communist Party of China] Central Committee, with Chinese President Xi Jinping as the core".
He said China's stance on improving ties with the Vatican has always been clear and consistent, and the country is willing to hold talks "with the Vatican based on relevant principles to narrow differences and expand common ground".
"We hope the Vatican will take practical actions to create favorable conditions for the improvement in ties," the China Daily quoted the religious chief as saying. He was reportedly referring to the Vatican's ties with self-ruled Taiwan, or the Republic of China, which the Beijing administration considers its own territory.