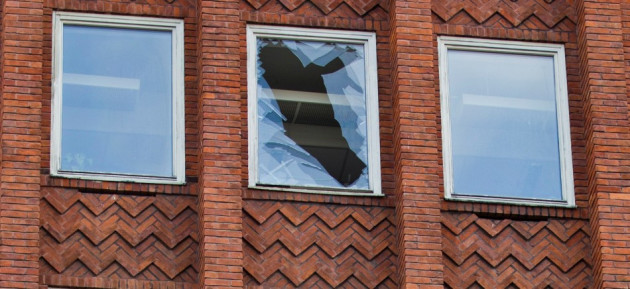 A Chinese couple have fallen to their deaths after a window they were leaning against shattered. The man and woman were believed to have been having sex at the time. Witnesses say the two had their hands wrapped tightly around each other as they fell to the pavement below.
The incident happened in Wuhan, a city in central China. However, it is unclear which floor the couple fell from. Local news reports have blamed the poor quality of windows and the glass used. A photo of the accident scene shows the couple on the ground, with their bodies covered by white sheets.
A report in the New York Daily News suggests the couple perhaps moved closer to the window to keep cool; temperatures in Wuhan are in excess of 30C.
It should be noted that although local news sites' reports and the accompanying photograph have gone viral, there has been no confirmation of the fatalities from local authorities.
Sex in Weird Places Can be Dangerous
If the Chinese couple did indeed die having sex, they join a growing list of people killed in bizarre locations, while having sex.
In March, a woman (identified as Mai Desire) and her boyfriend were mauled by a lion while having sex in the bushes near a village in Zimbabwe. "Unfortunately the woman, who was also known as Mai Desire, was mauled to death by the lion, but her boyfriend managed to escape naked and he was only wearing a condom," a source told My Zimbabwe .
Five years ago, an unknown man and a woman in her late 20s, both from the town of Kinross in Scotland, were killed when a train ran over them - they were having sex on the railway tracks.
In 2007, Chelsea Timbleston and Brent Tyler, a student couple from the University of Carolina, slipped and fell off a wet roof where they were having sex. Their naked bodies were found by a security guard.
In 2009, Austrian couple Reinhard Wallecker and Stefanie Tanzer were found dead in the car where they were having sex, in his parents' garage. Feeling cold, they had turned the car on to use the heater and were gassed by exhaust fumes.