Chinese see Trump as an entertainer and not a serious politician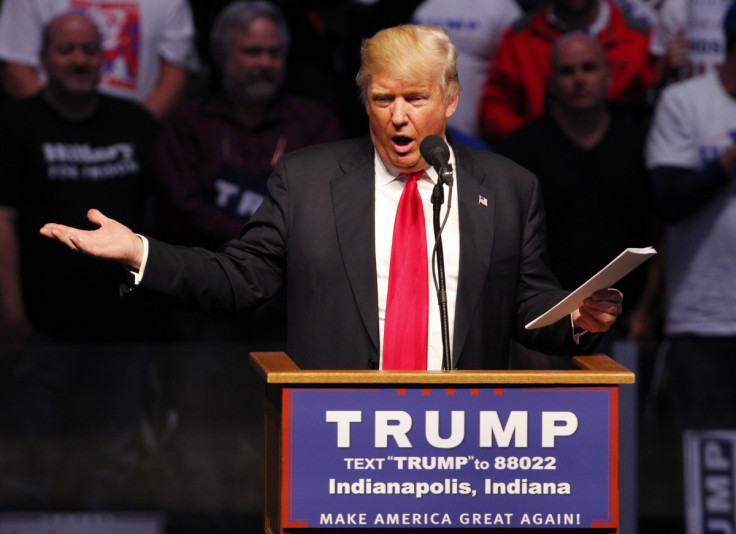 The Republican Party's sole candidate Donald Trump may not have nice things to say about China but that apparently has not stopped the property tycoon from being popular with the Chinese population. According to a March survey conducted by huanqiu.com, a Chinese website affiliated with the Global Times, 54% of the 3,300 voters polled said that they liked Trump.
The results of the survey, experts say, however stems more from Democrat presidential candidate Hillary Clinton's tough stance towards China. She has often criticised China over both human rights violations and cyber security concerns.
The official Xinhua news agency went a step further and warned that Trump could actually beat Clinton if he toned down his "explosive rhetoric." It said: "Despite being a celebrity outside the United States, Clinton, the former first lady and secretary of state, simply neither excites, nor galvanises her base."
Diao Daming, a researcher at the Institute of American Studies with the Chinese Academy of Social Sciences said it is too early to draw any conclusions on online surveys. "Most Chinese know little about Trump's political views or the US election," he told Global Times.
"They regard Trump as an entertainer, not a serious politician," Diao said. Wu Xinbo, the director of the Centre for American Studies at Fudan University told Global Times: "Unlike other politicians, Trump has impressed the public with his own political views, although most sound absurd.
"Chinese scholars have different views on Trump because of the controversial personal style he displayed in the elections race. He surprised people by going so far," Wu said.
As a maverick nominee for the Republicans, Trump would make the final election in November for the US presidency unpredictable, Wu added. This comes as no surprise as some of Trump's negative comments about China have not been reported in Beijing, according to South China Morning Post. Reuters noted that China's tightly controlled state media has "largely stuck to reporting facts about Trump" with some notable exceptions.
South China Morning Post noted that Trump "used to enjoy popularity among young [Chinese] people as a flamboyant TV celebrity. In previous years, Trump in fact expressed great admiration as a property developer for China's economic achievements, which he described as stemming from a flair for deregulation and infrastructure," the newspaper noted.
In fact, South China Morning Post said that Trump's later slights on China have been tempered by the perception in China that Clinton is much more anti-Chinese and the real mastermind behind President Barack Obama's "pivot to Asia" strategy.
Shao Yuqun, the director of the Centre for American Studies at the Shanghai Institute for International Studies told the Global Times that the odds of Trump being able to gain at least 50% of the votes are increasing just as voters' anger and distrust against the Obama administration grows. Global Times however noted that the lack of support from mainstream Americans and Trump's bold remarks may work to his disadvantage.
Sino-US relations unlikely to be affected if Trump becomes President
The analysts however mostly agreed on one point. The final outcome of the US Presidential election would have limited influence on Sino-US relations due to the already existing close bilateral economic relations between both countries.
In fact, Wang Yiwei, a foreign affairs scholar at the Renmin University of China told Global Times that a President Trump may actually benefit Sino-US relations, given his isolationist foreign policy. "As a businessman, Trump is a realist and advocates the exchange of interests, which could help Sino-US relations make some substantial progress," Diao said.
Trump has proposed that tariffs be hiked up to 45% on imported Chinese goods. He has also accused China of waging an economic war against the US and taking on American jobs. On 1 May, ahead of the Indiana primary, he compared the US trade deficit with China to rape.
China, incidentally is the US's largest trading partner. In 2015, the US recorded a $366bn (£252bn) trade deficit with China, up from $343bn (£236bn) in 2014. This is the largest US trade imbalance with any nation.
Chinese Foreign Ministry spokesman Hong Lei, when asked whether Beijing is concerned over the prospect of a Trump presidency following his win in Indiana and the declaration of Trump as the presumptive GOP candidate, he said that the US election was an internal affair that he could not comment on.
"What needs to be pointed out is that the essence of Sino-US trade and business cooperation is mutually beneficial and win-win, and accords with the interests of both sides," Hong told a daily news briefing. We hope people in all fields can rationally and objectively view this relationship," Hong said. He did not elaborate.
© Copyright IBTimes 2023. All rights reserved.