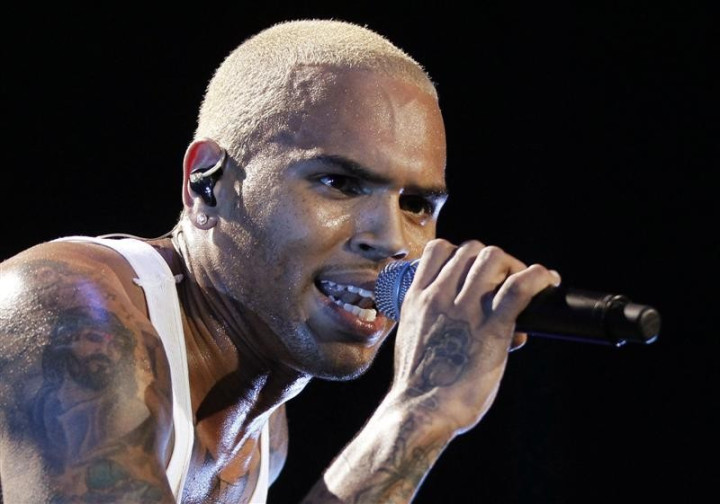 Just days after he was accused of attacking a woman at a Californian nightclub, Chris Brown's legal woes have got a whole lot worse.
The R'n'B superstar, who is on probation for his 2009 attack on former girlfriend Rihanna, is facing prison after being charged with a hit and run.
The charges stem from a traffic accident in Los Angeles last month, when the Turn It Up hitmaker allegedly hit a Mercedes Benz. He is accused of refusing to show his driver's licence and giving false insurance details, before fleeing the scene.
Brown faces a maximum punishment of six months in jail and a $1,000 fine for each offence. His arraignment is set for 15 July.
But the 24-year-old star, who has been at the centre of a slew of controversies in the last few months, used Twitter to deny the allegations surrounding the car crash incident.
In a series of profane messages, Rihanna's ex-boyfriend claimed that he provided his details at the time of the crash.
"It's not a hit and run if u get out the car, exchange information (who has NO DAMAGE to either cars)," Brown told his 12.7million followers. "This is really ridiculous."
To drive his point home, he changed his profile picture to what he says is the "pic I took of the persons car after 'the hit and run.' NO DAMAGE."
He later added: "I have a valid drivers license and I gave the woman the right info. She saw cameras and wanted to make a scene... She contacted the cops thinking of a payday from Chris Brown when I followed the proper procedures."
Earlier this week, Brown denied allegations in a story published by TMZ that he assaulted a 24-year old woman and left her needing medical attention.
Deanna Gines claimed she was taken to hospital following the alleged attack at the Heat Ultra Lounge in Anaheim, California and was left with torn ligaments in her knee as a result.
"I don't usually comment [on press reports], but I didn't do anything", Brown wrote in Twitter.
"Positive energy... The devil is always working. If it wasn't for my faith and my fans, I would've quit music along [sic] time ago. I'm tired of it man....! stay positive."