Chris Brown recently launched a social media attack on Adrienne Bailon and Tamar Braxton after they criticised his girlfriend Karrueche Tran on their talk show.
Bailon, 34, and Braxton, 37, discussed the rocky relationship on the ladies talk show and accused Tran of tolerating cheating and only staying with Brown because she loves the fame.
The comments sparked an angry reaction from Brown, who quickly took to social media to respond to the talk show hosts in an insult laden rant.
In the lengthy Instagram post the Grammy Award winner addressed Bailon as an "old trout mouth b***h", spoke about her relationship with Rob Kardashian, called her "irrelevant" and accused her of sleeping with married men.
The Loyal hit-maker also called out Braxton, calling her the "ugly sister" and a "muppet face".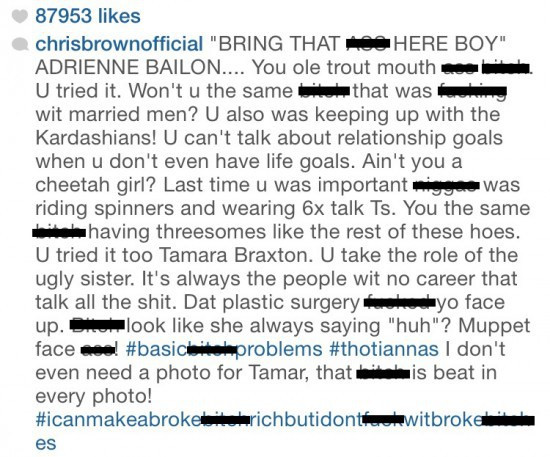 Tran, 26, who usually stays quiet, also wrote a message that Brown posted on his page.
In the post she said she "couldnt care a less" about the opinions of others but asked them to consider how it feels being "judged for everything" by people who have "no clue".
The singer also uploaded a video where he defended his rant.
"I ain't got no chill button. If you don't like it, f*** you", he said in the video that he later deleted.
Bailon's ex-boyfriend Rob Kardashian also chimed in on the attack by becoming a new follower of Chris on Instagram and also liking his photo of Adrienne and its criticism of her.
Bailon meanwhile liked recent photos posted to Instagram by Chris' ex-girlfriend Rihanna.