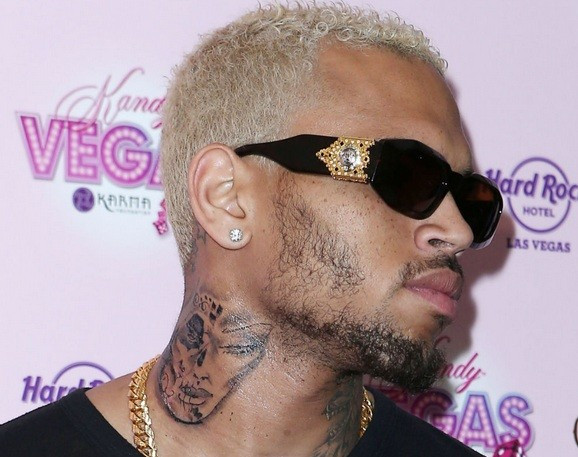 Chris Brown has denied claims that he tattooed Rihanna's face on his neck.
The Turn up the Music hitmaker sent the rumour mill into overdrive when he unveiled the new etching, which bore an uncanny resemblance to his former lover.
However, sources close to the star have now reportedly told gossip site TMZ.com that the tattoo is not of RiRi, but "a random woman" and that all similarities are just coincidental.
The tattoo speculation came just days before the pair were caught on camera sharing a kiss and embracing at the MTV Video Music Awards.
Their public show of intimacy quickly reignited rumours that the former couple, who split in February 2009 after he assaulted her, may be getting back together.
Earlier this year Rihanna professed her love for Brown in an interview with Oprah Winfrey.
She said: "We went to a mutual friend's party on a yacht. It's awkward because I still love him."
Describing him as her first love, she insisted that her he still gives her butterflies when she sees him.
"My stomach drops and I have to maintain this poker face and not let it get to the outer part of me," she said.
''I have to maintain that and suppress it and interpret that and understand that is not going to go away."
If the inking is in fact of Rihanna, it could mean that Brown is following in the footsteps of NFL star Chad Johnson, who tried to win back his estranged wife Evelyn Lozada by having her face tattooed on his leg.
Lozada called time on the 41-day marriage following a domestic dispute in which Johnson allegedly headbutted her.