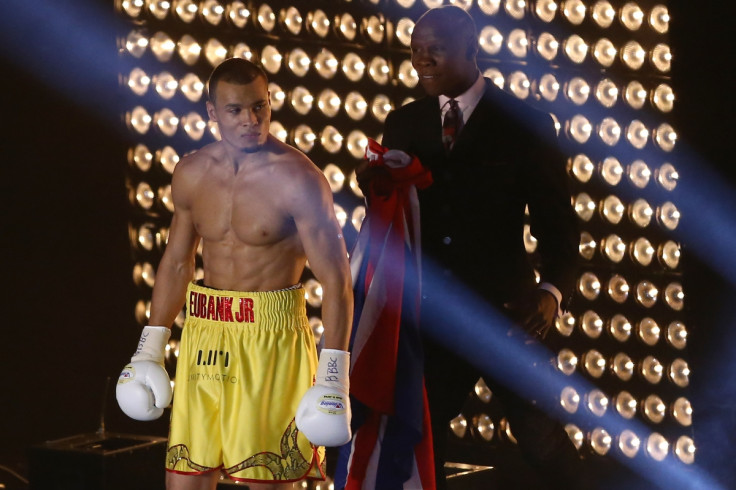 Nick Blackwell defends his British middleweight title against Chris Eubank Jnr at Wembley Arena on Saturday 26 March.
Where to watch
Blackwell vs Eubank Jnr is available to watch live on Channel Five, with the broadcast scheduled to begin at 9pm (GMT) with the ring walk for the main event scheduled for approximately 10:30pm. If you fancy catching the undercard, tune into Spike (Freeview channel 31, Sky channel 160) from 7:30pm (GMT), where you can see Hughie Fury, younger brother of world heavyweight champion Tyson, taking on Dominick Guinn.
Preview
Eubank Jnr once again aims to do what is father never did; win the British middleweight title. His first shot at the belt ended in a split decision loss to Billy Joe Saunders in November 2014, a fair result in the end but one marked by a resilient effort from Eubank. Since then, the 26-year-old has battered his way through those looking to silence him, racking up three straight wins, culminating in the brutal victory over the battle-hardened Spike O'Sullivan in December.
Blackwell meanwhile makes his third defence of his British title, vacated by Saunders last year. The 25-year-old secured a seventh round victory over John Ryder to take the belt, a fight some felt was stopped too early. Despite holding the title, he will start Saturday's fight as the underdog.
What they've said
Blackwell: "He's always trying to be someone he's not. He could actually be a nice kid if he cut the apron strings and was himself a bit more. But he's told what to say by his father and he's always in performance mode. There's nothing real about him.
He's taking bad advice from people. They all think they've got the game sussed but the facts don't back it up. He's not popular, he can't sell tickets and people only ever talk about him negatively. That's okay if you're going to be Floyd Mayweather, but he's not.
Eubank Jnr: "It's laughable for him to say I've been avoiding him," said Eubank Jnr, 21-1 (16 KOs). "He's a boring guy. He has to say something to try and get some attention. His stories about me avoiding him are fantasy. He wants to get under my skin by saying I'm scared and have been dodging him.
"The truth is, every single middleweight in Britain has at some point said on Twitter that they'd love to fight Chris Eubank Jnr They've said it to their friends and to their promoter. I get tweets from fighters all the time. I guess I've ducked every fighter in Britain then. It doesn't make any sense.
Records
Blackwell: 23 fights, 19 wins (eight via knockout)
(W) Jack Arnfield – unanimous decision – November 2015
(W) Damon Jones – technical knockout – July 2015
(W) John Ryder – technical knockout – May 2015
Eubank Jnr: 22 fights, 21 wins (16 knockouts)
(W) Gary O'Sullivan – referee decision – December 2015
(W) Tony Jeter – technical knockout – October 2015
(W) Dmitry Chudinov – technical knockout – February 2015
Prediction
Since his defeat to Saunders, Eubank has been unstoppable and more importantly, has looked more polished with each win. TKO in his favour.