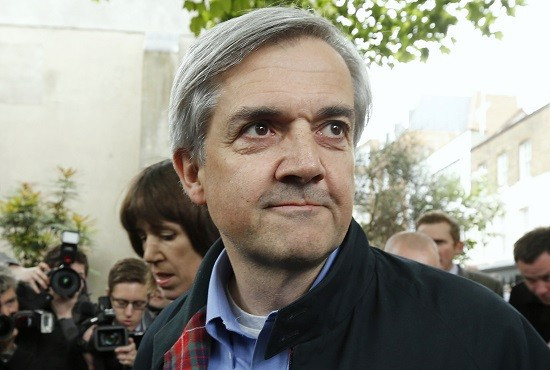 Former cabinet minister Chris Huhne has blamed Rupert Murdoch's newspapers for the speeding points scandal which brought him a jail sentence earlier this year.
The former Liberal Democrat MP accused the Sunday Times of "grooming" his ex-wife Vicky Pryce until she told the paper about how she taken three penalty points for him after he was clocked speeding a decade ago.
Huhne, previously a member of David Cameron's cabinet, served 62 days of an eight-month sentence after pleading guilty to perverting the course of justice on the first day of his trial in February.
He believed he was targeted by Murdoch's newspapers because he called for Metropolitan Police to reopen the voicemail hacking investigation. Around the same time, he claimed the now-defunct News of the World had tailed him as they suspected him of having an affair.
His marriage to Pryce ended when the Sunday paper revealed he had a relationship with 46-year-old PR adviser Carina Trimingham, whom he eventually left Pryce for in 2010. One year later, Pryce told the Sunday Times she had taken points from her ex-husband when Huhne's car was clocked speeding at 69mph in a 50mph zone. Huhne would have faced a driving ban had he gained any more points on his licence.
Writing in the Guardian, Huhne said: "My endgame began when Neville Thurlbeck, the chief reporter of the now defunct News of the World, heard gossip that I was having an affair. Rather than cheapskating on the proposed investigation by hacking my phone, the News of the World put me under extensive surveillance by a retired policeman, a more expensive exercise.
"Why was News International prepared to invest so much to tail an opposition Liberal Democrat back in 2009? Maybe it was coincidence, but that summer I was the only frontbencher who, with Nick Clegg's brave backing, called for the Metropolitan police to reopen the voicemail hacking inquiry into Rupert Murdoch's empire.
"The News of the World sparked the end of my marriage, but another Murdoch title, the Sunday Times, then groomed my ex-wife until she told them about the speeding points. The political editor bought dinners, sent flowers, offered breaks at smart hotels, and reassured her that she would not face any unpleasant consequences [such as prison]."
Huhne also admitted he was not proud of his behaviour, which lead to him and Pryce spending time in prison, adding the ordeal had a "monstrous" effect on him and his family.
He added: "The moral of this story? First, none of this would have been possible without my own mistakes. I am no saint (but nor did I claim to be).
"Second, politicians now have to live with a 24-hour media, which is more intrusive and hurtful for the people they love, and this is having a corrosive effect on how the public view politicians, and politics itself.
"Ultimately, the new media aggression is not just a problem for those individuals directly affected, it is a problem for us all."