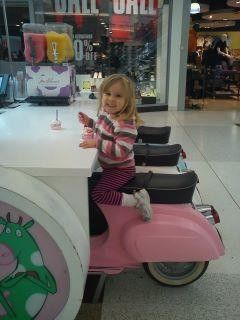 Customers will now be able to take photographs at several UK shopping centres following an internet campaign started on Facebook.
The change was enacted following an incident at Braehead shopping centre, near Glasgow, when a man was interrogated by police for taking a picture of his daughter eating ice cream.
Chris White was stopped by a security guard after taking a photo of his four-year-old daughter Hazel. Mr White began an internet campaign to boycott the shopping centre. The "Boycott Braehead" Facebook page rocketed from roughly 8,000 "likes" on Monday, to 21,888 at the time of writing on Tuesday morning.
Capital Shopping Centres said the new rules allowing photography would apply immediately to its 11 UK shopping centres.
"CSC can confirm that we will be changing the photography policy at our 11 directly owned centres and that at the other three centres, which we own in partnership with other companies, we will be discussing with our partners the policy change and recommending that it be adopted," it said in a statement.
Mr White says he has been surprised and delighted by public support for his campaign.
"I have been overwhelmed by the public response on this issue and thank everyone for their support," he added.