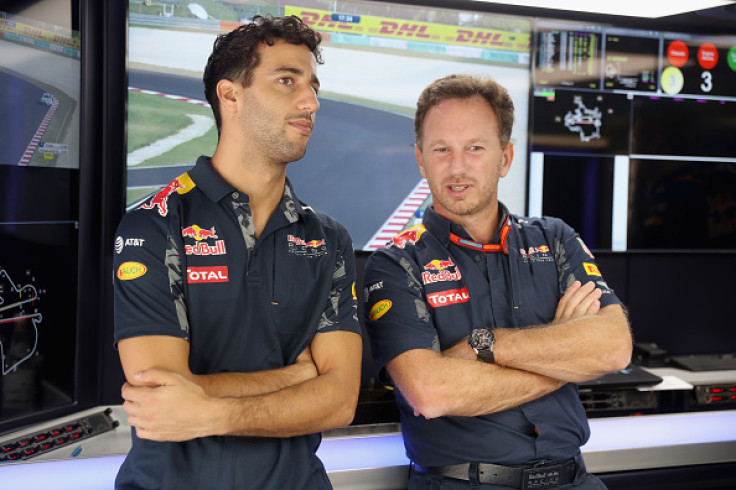 Red Bull Racing are not concerning themselves with the Drivers' Championship battle between Nico Rosberg and Lewis Hamilton going into the final race of the campaign with team principal Christian Horner warning the championship leader that his drivers Max Verstappen and Daniel Ricciardo will be going all out to achieve the best result they can.
The Austrian-owned team have been Mercedes' closest competitors during races this season and could complicate the title battle on Sunday (27 November) by getting in between the two title rivals. Rosberg is 12 points ahead of Hamilton in the championship and can clinch his maiden title with a place on the podium, but Horner has made it clear that his drivers will do all they can to finish as high as possible, even if it means spoiling either Silver Arrows drivers' title hopes.
The Red Bull chief believes that Rosberg is the driver under more pressure as he has more to lose come race day. The German will be under pressure especially going into turn 1 on the opening lap. There have been a number of instances when the leading cars have made contact this season, and Horner suggested that his drivers will not go easy despite the title battle being on a knife edge.
"First of all to my drivers I'd say just go for it because it's not our championship battle. We could be Lewis' best friend on Sunday if we manage to get both cars ahead of Nico," Horner said, as quoted by Autosport.
"There's no point Lewis being ahead by half a lap - if he's smart he's going to back the cars up so there is racing behind him because that's the only way the result will fall his way.
"Nico has got everything to lose. In reality a top three finish is a straightforward result for a Mercedes driver but he's probably going to be watching his mirrors harder than everybody else in the field. He's got everything at stake," the Red Bull chief explained.
"Lewis's job in some ways is easier as Nico is the one with the pressure on him to close out the championship."