Christine Ohuruogu is refusing to consider making history as the first British athlete to retain an Olympic track and field title despite a return to her very best during the London Grand Prix at Crystal Palace.
Ohuruogu, who suffered despair at last year's World Championships in Daegu as she false started in the first round of the 400m, produced a performance which mirrored her victory in the Birds Nest stadium in Beijing four years ago.
In similar fashion to how she shocked the fastest women of 2008; Sanya Richards, with a typical late salvo, Ohuruogu repeated the trick at Crystal Palace, upsetting world champion Amantle Montsho in the final 70 meters amid a torrential downpour.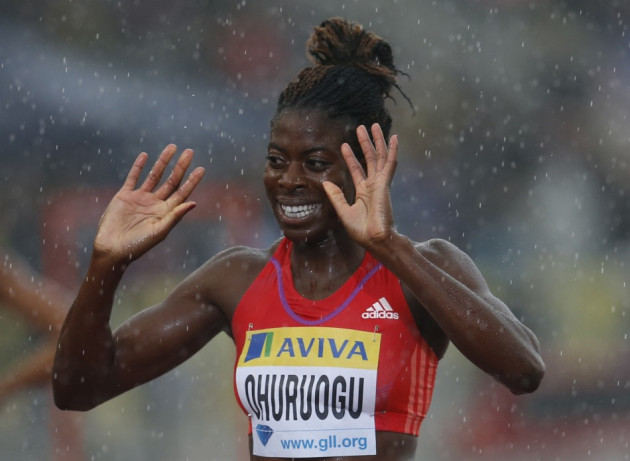 "Yeah it was nice, when I was running it was a bit like training for me so it didn't really bother me too much," Ohuruogu said.
"We don't know if it hadn't been raining what I would have run, maybe if it wasn't raining the other girls would be a bit more comfortable I don't know but I'm just happy to take the win.
"Everything's fine, there's still work to be done yet, we've still got work to do. There's three weeks so three weeks of work and continuously sharpening up.
"No I don't hear it [talk of Olympic gold], I just focus on my race plan, I don't get involved in all the noise and hype. I'm just with my coach and my team make sure I'm in a good frame of mind and make sure I produce on the track."
Ohuruogu's trademark late surge, which ensured she came away from the final race before the 400m first round on 3 August with a season's best of 50.42 seconds, remains an unanswered weapon on the world stage and provides enough evidence she can contest for medals; following a wretched Olympic cycle.
"I don't really know what to make of it," Ohuruogu said. "It's just how I run, and it's not something I think about too much. We just continue to keep plugging away."
Injuries and a dramatic loss of form culminated in her false-start in South Korea last Autumn, but a timely return form on her home patch propels her into contention to become the first Briton to ever retain a track and field gold medal.
"It's nice yeah, I think it's been a really long road since 2008," she added. "It's been tough so it's nice to know that I'm fit and healthy, I've done the work so I just need to keep things ticking along."