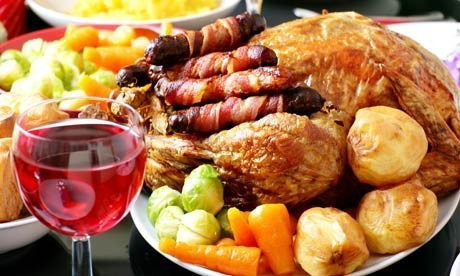 It's official - Christmas is getting more expensive.
Good news for unscrupulous payday lending firms with ludicrously high interest rates, bad news for everyday Britons trying to put turkey and all the trimmings on the table and presents underneath the tree.
As UK inflation stalls at 2.7 percent in November, the BBC has compiled its annual Christmas dinner price indices which show that your bill is likely to be plumper than the turkey.
Spud prices are up 43 percent with wet weather meaning more than a 10th of the country's supply was still in the ground at the end of November because it could not be harvested.
Rain has also hit sprout yields with prices soaring 24 percent.
Likewise, carrots have suffered the same problem and have also seen prices rise 44 percent.
Sausages are up 2 percent, boosted by the rising price of pig feed and European farmers cutting their herd numbers to prepare for impending tighter welfare regulations, while bacon prices were unchanged.
Turkey prices were the same as the year before, offering a giblet of solace on a dinner plate that has not seen one item get cheaper across the year.
It's not just Christmas dinner that is a wallet-emptier during the festive period.
In what it describes as a "whimsical economic analysis", US bank PNC calculates the cost of the gifts in the old carol The Twelve Days of Christmas for an annual index.
PNC said 2012's Christmas Price Index was up 4.8 percent on the year before, taking the total cost of all the gift items to $25,431.18 (£15,690.94, €19,287.55). Purchasing the items each day during the 12-day festival, as the carol suggests, takes the total cost to an all-time high of $107,300.
"The rise of the PNC CPI is larger than expected considering the modest economic growth we've had over the past 12 months," said Jim Dunigan, managing executive of investments for PNC Wealth Management.
"Despite some weak spots in the economy, consumer balance sheets are improving along with consumer confidence, which means this may still be a spirited holiday season."
Not one of the gifts in the classic carol went down in price in 2012.
The biggest price climber was for six-geese-a-laying - 29.6 percent more expensive than a year ago at $210.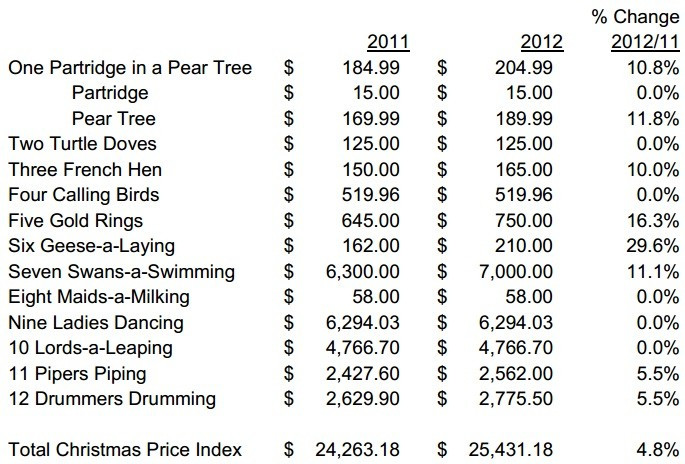 In troubled economic times the value of precious metals soars, so it's no surprise that five gold rings will set you back 16.3 percent more this year.
With all the rising bills, despite not being in the spirit of the season, you're probably best off asking Santa Claus for money this Christmas.