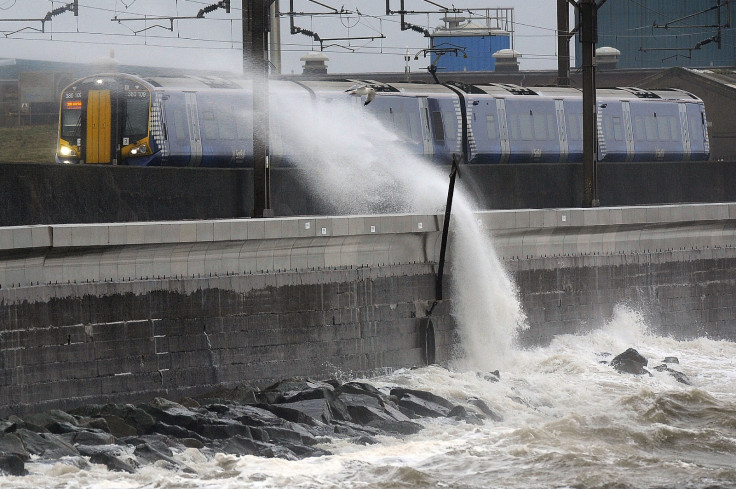 Millions of travellers face an added headache to their Christmas getaway as Storm Barbara began to hit parts of the UK on Friday (23 December), bringing gusts of up to 120mph.
Severe weather warnings have been issued for much of the UK, with the storm already causing power cuts, school closures and travel delays as it sweeps across the country from the Atlantic.
The worst conditions are expected to be felt in the far-north of the country, but disruption is also expected in the south where the storm is forecast to bring a narrow but intense band of heavy rain and gusty winds.
The unsettled weather is expected to last into Christmas Eve.
Wind speeds of almost 120mph were recorded at Cairn Gorm in the Scottish Highlands on Friday morning, while more than 70mph gusts were recorded off the west coast of Scotland at midday.
In the Highlands, almost 120 schools and nurseries involving a total of 8,500 pupils were forced to close on Friday on what was supposed to be the last day of term.
ScotRail has cancelled a small number of trains while ferry services to the Northern and Western Isles have been completely cancelled. All bus services on the Western Isles have also been cancelled.
Power cuts have been affecting properties in parts of Lewis and South Uist in the Western Isles, as well as Knockando in Moray and Assynt and near Loch Broom in the Highlands.
An amber "be prepared" wind warning is in place for northern and western parts of Scotland, where the Met Office said there is, "potential for some structural damage as well as disruption to power supplies and travel, with restrictions on bridges and disruption to ferries".
Flood alerts have also been issued for the Highlands and Western Isles, as well as Skye and the Scottish Borders.
The storm's arrival comes as Friday is expected to see the busiest day of travel over the festive period, with the AA predicting 12 million cars on the road as people make their Christmas getaway.
Scotland's transport minister Humza Yousaf said: "The safety of the travelling public is our main concern and services will run where possible, but planning in advance is essential and people should leave plenty of time for journeys and consider the conditions when they travel."
Separately, planned rail disruption is expected to cause more trouble for holidaymakers as a number of lines are closed for an extended period while Network Rail carries out £103m improvement works.
No trains will operate to or from London Paddington between Saturday and Thursday because of Crossrail works. Heathrow Express services will be suspended for six days.
Engineering works will also affect passengers travelling in Manchester and Cardiff, while strikes will see a reduced service on Southern rail between 31 December and 2 January.
People in Scotland, England and Wales can call free on 105 if the weather damages their local power network and affects electricity supply.