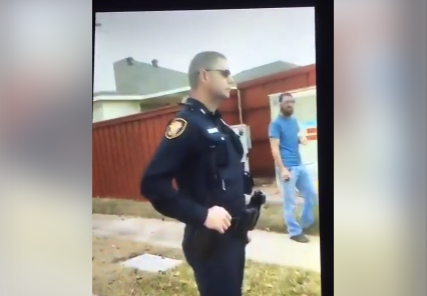 A white police officer in Fort Worth, Texas has been put on restrictive duty after a video went viral showing him in a heated confrontation with a black mother after she called about a man assaulting her son. The video shows Jacqueline Craig and two of her relatives being forced to the ground and arrested by the officer after originally calling for the police's help.
Craig alleged that her neighbour had grabbed her son by the neck when the seven-year-old ignored the neighbour's order to pick up litter from the ground. "My son is seven-years-old. You don't have the right to grab him, choke him," Craig is heard saying on the video.
The cop says to Craig: "Why don't you teach your son not to litter?" to which Craig replies "it doesn't matter if he did or didn't, it doesn't give him the right to put his hands on him."
The cop then says: "why not?" Shocked, the woman behind the camera tells the officer: "You are live."
After further heated exchange the officer tells Craig: "If you keep yelling at me, you're going to piss me off and I'm going to take you to jail."
A girl the New York Post identifies as Craig's 15-year-old daughter walks in between the officer and her mother but the officer grabs the girl.
A scuffle ensues in which the officer takes out his taser, though reports said it was uncertain whether or not he used it. Craig, her daughter and a relative, Brea Hymond, were all arrested.
An attorney for the family, Lee Merritt, said at a news conference on Thursday: "It's not a situation where someone used a racial slur, but racism is still all over it," according to the Fort Worth Star-Telegram.
Fort Worth police said an internal investigation was underway. The officer was wearing a body camera but footage will not be released until an investigation is completed.
The video shared on Facebook by Craig's cousin, Porsha Craver, has been shared over 80,000 times and viewed more than 2m times.
Warning: Video contains strong language and content some may find disturbing