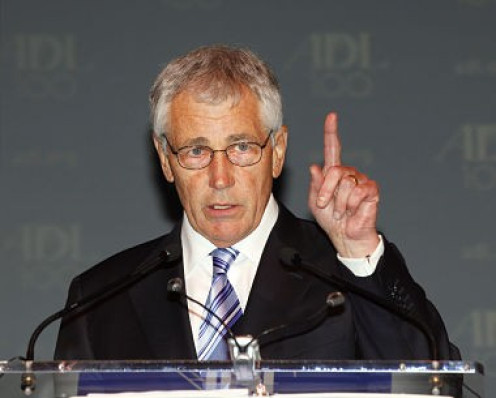 US defence secretary Chuck Hagel has mended fences with Jewish and pro-Israeli groups, which slammed his appointment in January over allegedly anti-Semitic views he had expressed in the past.
The 67-year-old war veteran was invited to deliver a keynote speech at a centennial celebration of the Anti-Defamation League (ADL), a prominent Jewish rights group campaigning against anti-Semitism and racial discrimination.
"The relationship between the secretary and myself has had a rocky beginning," ADL national director Abraham Foxman told IBTimes UK. "However, we got to know each other and respect each other and be sensitive to each other and now I can say we have become friends."
At the beginning of the year, Foxman severely criticised President Barack Obama's choice of Hagel to succeed Leon Pannetta who was due to retire.
"Chuck Hagel would not be the first, second, or third choice for the American Jewish community's friends of Israel," Foxman, 73 told the Washington Post.
"His record relating to Israel and the US-Israel relationship is, at best, disturbing, and at worst, very troubling. The sentiments he's expressed about the Jewish lobby border on anti-Semitism," Foxman said.
His anger was triggered by a comment Hagel made to former Middle East peace negotiator and author Aaron David Miller in 2006.
"The Jewish lobby intimidates a lot of people. I've always argued against some of the dumb things they do," Hagel, then a Republican senator, said.
"I'm not an Israeli senator. I'm a United States senator. I support Israel but my first interest is I take an oath of office to the constitution of the United States - not to a president, not to a party, not to Israel."
Foxman said he met the defence secretary several times over the last year and they had managed to ease the mistrust between them.
"I've learned things, he has learned things. We have now a respectful, close relation," Foxman said.
Hagel used his speech at the ADL's New York headquarters to announce that the US was to fast-track the delivery of six V-22 Osprey aircraft to Israel.