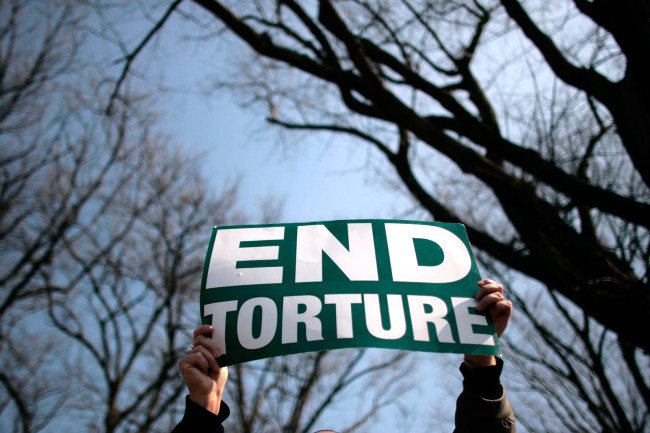 I have now read most of the 499-page summary of the Senate Intelligence Committee report on CIA torture. Having spent years investigating the abuses detailed by the committee, I did not think it was possible to still be shocked by the CIA – but it is.
The report repeats many facts already reported about the CIA torture programme, including the use of brutal stress positions, extended sleep deprivation with bright light and loud noise, waterboarding, and shutting detainees inside coffins.
It also contains new details showing that CIA torture was even more egregious than previously thought: painful restraints, use of punitive "anal feeding" or "anal rehydration," and forcing detainees with broken leg bones to stand shackled against a wall. The number of detainees was also bit higher than we thought: at least 119, not 90 to 100. Many were released – some are now free, but it will be hard to track them down. One in five didn't meet the CIA's own definition of who should be detained.
The interrogations clearly took a heavy toll, especially because the abusive methods were used in combination and over the long-term. They built upon a base of sleep deprivation and denial of human contact. Many detainees were severely affected, both physically and mentally – one is described as "clearly a broken man," another "on the verge of a complete breakdown."
One passage, describing the interrogation of the CIA's first detainee, Abu Zubaydah, notes that he "frequently 'cried,' 'begged,' 'pleaded,' and 'whimpered,' but continued to deny that he had any additional information on current threats to, or operatives in, the United States."
The report contains extensive reporting on how much of the intelligence gathered was not useful – either the CIA already had it, or could have been obtained more easily. A clear narrative emerges that the torture of Abu Zubaydah and Khaled Sheikh Mohamed appears to have been counter-productive – the CIA got some intelligence eventually but it seems they were doing quite well with both men before they started using the most brutal techniques.
The report makes it seem the CIA had very little capacity to determine when detainees they were torturing were actually giving them true information – the report cites a few examples where the CIA thought a detainee was lying when in fact he was being truthful, and vice versa.
There is also a pitiful footnote (number 442) that describes the ridiculous interrogation of Abu Bakr al-Filistini, also known as Samr al-Barq, who under torture stated and recanted his statements so many times it raised the question of why he was even being questioned.
CIA interrogators profiled in the report are revealed as far less professional and trained than the CIA and White House had previously argued. Overall the impression is of CIA personnel and officials who didn't really know what they were doing, but were pretending otherwise.
The report summary is a very disturbing read. Will the full 6,000-page committee report be declassified? Will it push the Obama administration to prosecute those responsible for torture as international law requires? Unless criminal acts carry criminal penalties, there is little to prevent a future president from using torture again.
John Sifton is an advocacy director at Human Rights Watch. He previously worked as Human Rights Watch's Senior Researcher on Terrorism and Counterterrorism.
The article was reproduced with the permission of HRW. You can find out more about them by visiting their website or following them on Twitter.