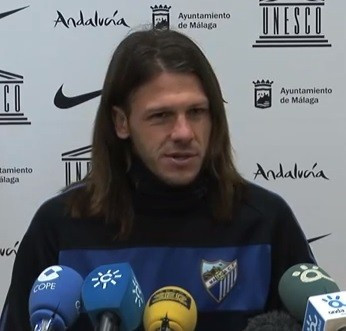 Manchester City defender Martin Demichelis says he has no complaints about his red card following his late challenge on Lionel Messi in the first leg of the Champions League last 16 tie at the Etihad Stadium.
The 33-year-old was red carded in the second half after he brought down Lionel Messi on the edge of his own box. A penalty was awarded and then successfully converted by Messi, with Barcelona going on to win the game 2-0 when Dani Alves added a second goal.
There was some protest regarding the penalty decision but Demichelis accepted the blame on his part.
"I feel sad about it. It's impossible to make an objective analysis of the play. I can't blame the referee," Manchester City defender told Buenos Aires radio station AM950.
"There were two games: One before the penalty and one after.
"These mistakes make you and hurt you, but the penalty killed the game of football."
The Argentine was impressed by Barcelona, but refuses to give the tie up for lost.
"I don't think there is any team that can match the way Barça play," he added.
"The hardest thing to do is get the ball from them. But we have to go to the game in Barça with faith."
Demichelis was also asked for his thoughts on the form of Lionel Messi, after some critics claimed he was no longer interested in football.
"Messi's injuries are in the past now. I know he lives for football," he replied.