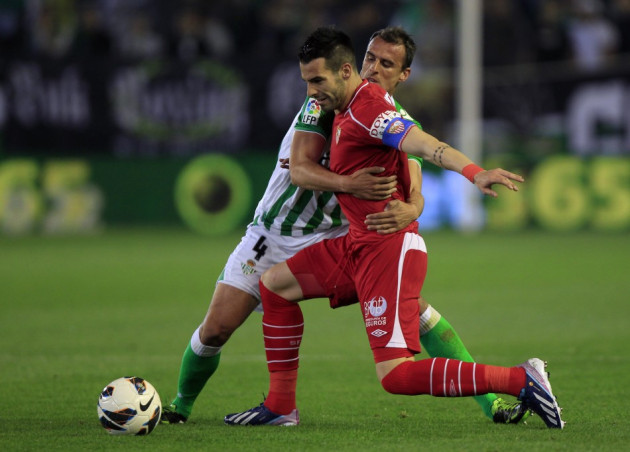 Manchester City could confirm their third signing of the summer in the form of Sevilla striker Alvaro Negredo in the next 24 hours after manager Manuel Pellegrini revealed an update regarding the club's transfer dealings is imminent.
City have welcomed both Fernandinho and Jesus Navas into their squad in the summer window and Pellegrini wants to sign a striker to replace Carlos Tevez, who has joined Juventus.
An additional forward is City's number one priority with former boss Roberto Mancini also having been unable to find a replacement for Mario Balotelli who joined AC Milan in the twilight of the January transfer window.
"We will try and good squad for next season," Pellegrini said as City touched down for the start of their pre-season tour in South Africa. "As you know we're in the market. We don't know who is going to come in here, but we are trying to get the best players to arrive at our squad.
"It's difficult to say what will happen in the future, but we have a very good squad and will work very hard to have a winning mentality from the beginning until the end of the season. I hope it will be a good season for us.
"I don't know whether before we finish here in South Africa that we will add another name to our squad. Maybe in the next day we are going to have some news but at the moment I can not say."
The FA Cup runners-up can call upon just Sergio Aguero and Edin Dzeko as front line forwards and have been linked with moves for Fiorentina's Steven Jovetic and Napoli striker Edinson Cavani.
However, reports regarding a move for Negredo, who wants to leave Sevilla after a disappointing ninth place finish in La Liga saw the club once again miss out on qualification for the Champions League, have continue to strengthen.
Sevilla have reached the group stage of the Champions League just once since Negredo joined the club in 2009, and despite benefitting from Malaga and Rayo Vallecano's exclusion from Europe for the 2013/14 season the Spanish international wants another taste of the continent's top tier club competition.
West Ham United had a £14.5m bid for Negredo rejected last month with Sevilla claiming they were under no financial pressure to sell having already parted ways with Navas, who moved to the Etihad Stadium for a reported £14.9m.
However, having secured a deal for striker Carlos Bacca, Sevilla appear to be preparing for life after Negredo and as a move to City draws ever closer, the 27 year old admits he is at a crossroads in his career.
"Right now, I'm at Seville and like it very much," Negredo said.
"If I stay that'll be fine but if I leave then it will be because it benefits both the club and myself. I'm happy on a personal level - but collectively we have not achieved the goals we wanted. Now perhaps I am at a decisive moment for my future."