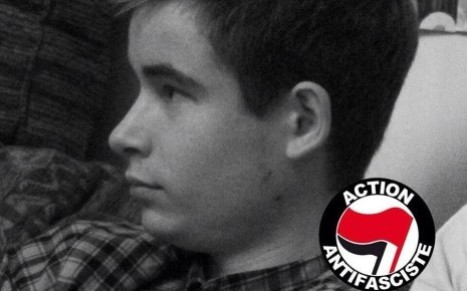 Eight suspects linked to extreme right groups have been arrested after a young anti-fascist campaigner was beaten to death by skinheads in Paris.
Thousands of protesters staged rallies against extremism across the country after the murder of Clement Meric, 18.
Many are calling for a ban on far-right and neo-Nazi groups, which have enjoyed a resurgence following the recent spate of protests against president Francois Hollande's gay marriage bill.
Three of those arrested were released from custody on Friday night.
Meric was killed in a fight that broke out at an invitation-only sale of Fred Perry designer clothing, which is prized by both right and left in Paris.
The altercation began when anti-fascist activists rebuked a handful of people who were wearing T-shirts proclaiming "white power" and "blood and honour".
Violence spilled over into the street outside, with the one of the skinheads allegedly using a knuckleduster.
Meric, a student at Paris's prestigious Institute of Political Studies, is thought to have hit his head on a post during the fight. He died in hospital on Thursday.
An autopsy was conducted on Meric's body on Friday. Interior minister Manuel Valls blamed "an extreme right group" for the murder, and called the row over same-sex marriage "a dangerous discourse".
Investigators are trying to establish whether the suspect who delivered the deadly blow is a member of the Revolutionary Nationalist Youth, a far-right group led by the former skinhead Serge Ayoub.
Ayoub, who is nicknamed "Batskin", denied those involved in the clash were part of his organisation, but admitted that the suspects had contacted him seeking advice after the brawl.
"They're panicking. Of course they regret it," said Ayoub, who was shown on French TV emerging from a police station, where he had been questioned as a witness due to his alleged ties to some of the suspects.
The hard-left Parti de Gauche warned of "the fascist horror which has killed right at the heart of Paris", while friends of Meric called his death "a political murder".
Marine Le Pen, the leader of the far-right Front National, said the attack had nothing to do with her party, which had "no contact, near or far" with those responsible for Meric's death.
Prime Minister Jean-Marc Ayrault called for all groups of "fascist and neo-Nazi inspiration" to be broken up.
But Luc Chatel, a former minister for the rightwing Union pour un Mouvement Populaire, warned against making a link between Meric's murder and the gay marriage protests.
"Daring to make a link between the murderer who beat Clement Meric to death and the French people who expressed their opinion during the protests was ... vile and hateful," Chatel said.