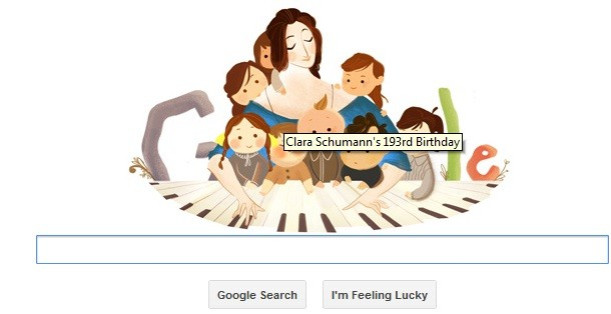 Google has come up with a new doodle to commemorate the 193rd birthday of German musician and composer Clara Schumann.
Google's home page depicts Schumann, one of the eminent pianists of the Romantic era, with her eight children. The image shows three of them clinging to her while others are playing the instrument along with their mother.
The image, in blue, yellow, green, and red replaces the two Os and the G of the Google logo.
Born as Clara Josephine Wieck in Leipzig on 13 September, 1819, she gave her first performance at the age of eight at the Leipzig home of Dr Ernst Carus, director of a mental hospital at Colditz Castle.
She was raised by her father Friedrich Wieck following a divorce by her parents. She was considered as a child prodigy and became famous all over Europe at a very young age.
She conducted a number of recitals in Vienna between December 1837 and April 1838 and went on to become a great composer.
"Composing gives me great pleasure...there is nothing that surpasses the joy of creation, if only because through it one wins hours of self-forgetfulness, when one lives in a world of sound," she said.
She married Robert Schumann, a gifted pianist whom she met at an early age in 1839 against the wishes of her father.
In her personal life, Schumann had to go through number of agonies including the death of her four children. She also had to witness her husband and one son spending their last years in a mental asylum.
Schumann herself became hearing impaired at the age of 76 and died following a stroke in 20 May, 1896.