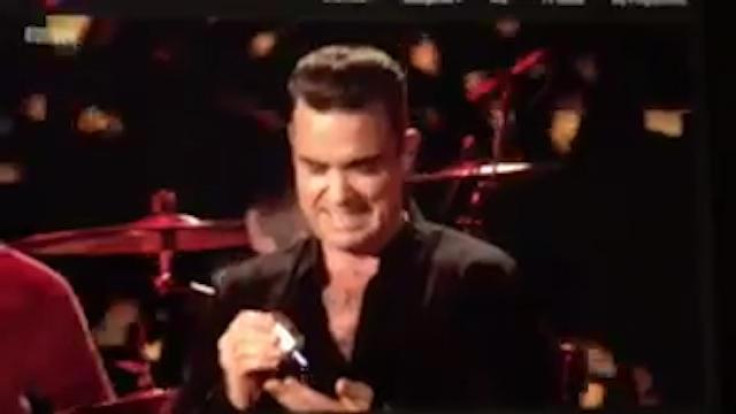 Robbie Williams created a whole new meaning for starting the year with a clean slate as he was caught using hand sanitiser during a New Year's Eve gig in central London where he greeted fans.
The 42-year-old singer sparked online uproar and prompted hundreds of memes and clips of the incident, with one being made by himself, as the public poked fun at his zealous use of hand sanitiser after singing Auld Lang Syne with members of the audience.
The image of Williams squirting hand sanitiser into his palms went viral online, making it inevitable that the singer would come forward to address the upheaval.
He did this in his trademark mischievous way by poking fun at the incident in a video shared on Instagram by his equally humorous wife, Ayda Field, which Williams later posted on his own account.
It shows the singer grabbing the hand sanitiser after interacting with a member of his own family. Further making fun of himself, he puts on a disgusted facial expression as he works the gel into his hands, insinuating he's more of a clean freak than a celebrity scared of normal humans.
The Sun also reports that the singer has become obsessed with the germ-killing gel and even gargles it in his mouth in a bid to hide his smoking from the children.
In an interview given before the NYE mishap, Williams told how he is so concerned with hygiene that he struggles to shake strangers' hands.
He said: "The kids haven't seen me do it. Around the house I have mouthwash and hand sanitiser everywhere."
The Take That star also revealed that living in Los Angeles made him health conscious, adding: "I have caught that in LA. I'm a bit of a germaphobe. I find it difficult shaking people's hands now."
He also went on to state that he ended up swallowing the hand sanitiser instead of mouthwash as he desperately tried to hide his smoking from Field and his children after taking it up again in recent months.
Williams said: "I didn't tell the missus for five weeks. I was getting up an hour before her. I would creep out of the room with my shoes underneath my arm.
"I would jump through a window at the other end of the house, strip naked outside so I wouldn't smell, then proceeded to smoke.
"When you're new to smoking you get a heavy buzz, so during this heavy buzz my legs wouldn't work and I couldn't get back into the house and I started to panic. Instead of using mouthwash, I gargled hand sanitiser. I was desperate."