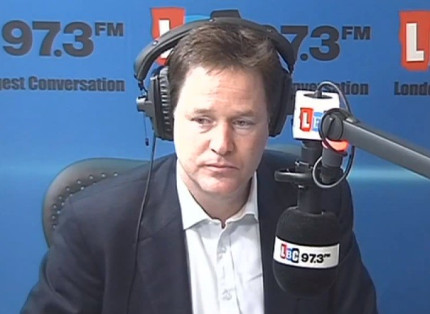 Senior Liberal Democrats are becoming increasingly concerned that the internal feud over alleged "sex pest" Lord Rennard is threatening to descend into a campaign of personalised mud-slinging on an unprecedented scale.
Liberal Democrat leader Nick Clegg used his weekly LBC radio phone-in to admit to a failure of leadership going back years and reject as "total garbage" suggestions that his wife, Miriam, had pressured him to take action over the peer.
But he flatly refused to back down in his demand for an apology from the peer, lift his suspension from the party or abandon a new inquiry into his behaviour.
He added that Rennard's refusal to apologise to the women at the centre of the claims of sexual harassment was threatening to "overshadow" his huge achievements in the party.
Meanwhile, Rennard's camp showed equal resolve in refusing to apologise and pressing ahead with legal action against his suspension from the party and the launching of an inquiry into whether he was bringing it into disrepute.
Senior figures, including Baroness Kramer, are urging the two side to go to some form of mediation amid warnings from some that the party is on the verge of a "blood bath, the like of which it has not seen before".
And former leader Lord Steel also said the suspension should be withdrawn and Rennard should drop legal action pending mediation.
But there are no signs that is about to happen. And concerns that the party could end up washing its dirty linen in public are well founded, partly because of Rennard's central role in party campaigning and his experience in every aspect of the party machine.
It is said that Rennard "knows where the bodies are buried – partly because he helped bury most of them". His election campaigning regularly attracted allegations of "dirty tricks" from opponents.
So the prospect of the two sides attempting to support their cases with specific examples of behaviour is prompting real worries in parliament, where there are already fears the affair is fatally damaging its 2015 election campaign.
It has also opened up a debate over the role and treatment of women in politics with Clegg stating: "It is messy, it is difficult to confront the past and to kind of turn a page and introduce a new culture in an organisation, particularly in a political party quite rightly under remorseless public scrutiny."
"But there is no way around my view that I want people in my party, the party I lead to treat each other with respect, with civility, with dignity. Everybody should do that but there's a special responsibility, a special burden of responsibility on people who are in positions of power to do just that."
He said "leadership was not executed properly in the past," adding: "I accept the way we handled it last year was not great, it was not ideal."
And, responding to a newspaper story that his wife, Miriam, had pressed him to act he said it was a work of fiction and "complete garbage".
The problem now is that both sides have dug themselves so deeply into their trenches it is impossible to see how they can end hostilities without one or the other admitting defeat.
And that suggests this crisis still has a very long way to run.