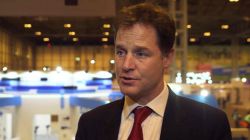 The Lib Dems said they will not be taking disciplinary action against Lord Rennard over allegations of sexual harassment.
Alistair Webster, a QC who led the investigation, said there was not sufficient evidence Lord Rennard had acted in an inappropriate way. Webster advised that Rennard apologise to the women to whom he may have caused "distress". He was also asked to commit to changing his behaviour.
The former Liberal Democrat chief executive has always denied the claims made against him. Although he stepped down from the position in 2009, he is still a member of the party's policy making body. He resigned the Lib Dem whip in the Lords after female members of the party made allegations that he had made unwanted sexual advances and touched them inappropriately.
In a statement, Webster said: "In my opinion, the evidence of behaviour which violated the personal space and autonomy of the complainants was broadly credible.
"However, it is my judgment, considering all of the evidence collected, that it is unlikely that it could be established beyond reasonable doubt that Lord Rennard had intended to act in an indecent or sexually inappropriate way. Without proof of such an intention, I do not consider that such a charge would be tenable."
He added: "It is my view that Lord Rennard ought to reflect upon the effect that his behaviour has had and the distress which it caused and that an apology would be appropriate, as would a commitment to change his behaviour in future."
Nick Clegg, the Liberal Democrat leader, agreed that Rennard should apologise to those affected. An independent report by Helena Morrissey, a businesswoman, found Clegg had been wrong not to launch a formal inquiry at the time of the allegations in 2008.
"People in positions of authority should never subject anyone, whoever they are, to behaviour which is offensive or inappropriate," he said. "It is as simple as that."