Democratic presidential nominee Hillary Clinton's campaign will release medical records in the coming days following a health scare at a 9/11 memorial service. The campaign also acknowledged on Monday (12 September) that it mishandled the situation the previous day.
Clinton's campaign was severely criticised for waiting two days to reveal the 68-year-old candidate had pneumonia and for failing to disclose for 90 minutes what had happened when she exited the memorial event.
Campaign press secretary Brian Fallon acknowledged that mistakes were made and said the campaign could have handled the situation better.
"I think that in retrospect, we could have handled it better in terms of providing more information more quickly," Fallon told MSNBC. Fallon said the campaign's priority was making sure Clinton was okay instead of revealing information to the press.
A video from the memorial, held in New York, showed the former secretary of state nearly collapsing and being whisked away by secret service agents. Her campaign initially claimed Clinton had overheated, before revealing she had been diagnosed with pneumonia on Friday (9 September). Clinton later cancelled a trip to California to recuperate from the illness, according to a Reuters report.
The Wall Street Journal said that Clinton released a summary of her health last year, with her campaign noting that was enough information. However, following the medical scare, Fallon said she decided to release more details regarding her health.
Clinton's rival, Donald Trump, said he too would release more medical details but did not specify when. In a Monday interview on Fox News, Trump said the health of the two major candidates was "an issue. In fact...this last week I took a physical and...when the numbers come in I'll be releasing very, very specific numbers."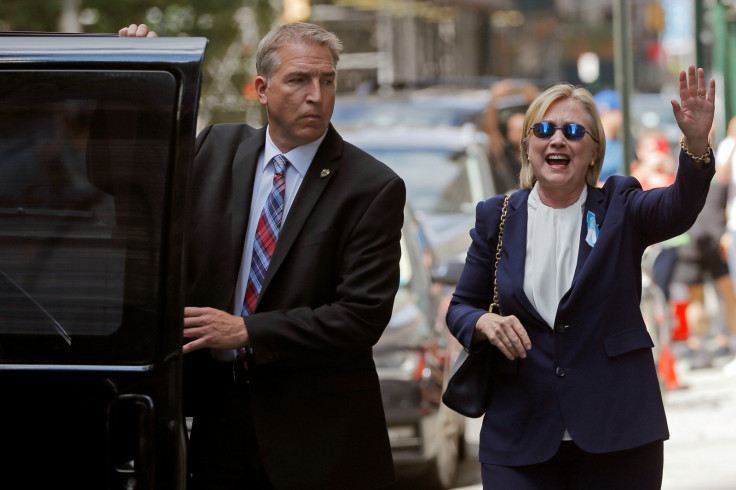 Reuters noted that the 70-year-old real estate mogul has released less information regarding his health to the public than Clinton has. Last year, Trump's doctor released a letter claiming he would be "the healthiest individual ever elected to the presidency."
Fallon revealed that Clinton was resting at home on Monday and would be calling in at a fundraising rally in San Francisco she had originally planned to attend. The Wall Street Journal noted that Clinton was scheduled to be in California on Monday and Tuesday (13 September), before heading to Nevada on Wednesday (14 September).
Clinton's campaign said that she had not planned to change her appearances following the pneumonia diagnosis. "Her intention was to power through," Fallon said. "She was full-steam ahead." He noted aides had to convince Clinton to cancel her visit to California.
In an unexpected turn, Trump also wished Clinton a speedy recovery. "I hope she gets well soon. I don't know what's going on. I'm like you, I just see what I see," he said.
"The coughing fit was a week ago, so I assume that was pneumonia also. I would have think it would have been so something is going on but I just hope she gets well and gets back on the trail, and we'll be seeing her at the debate."
The two nominees are set to go head-to-head on 26 September in Hempstead, New York, for their first election debate.