Coalition Cracks Emerge as Clegg Demands Tax Rethink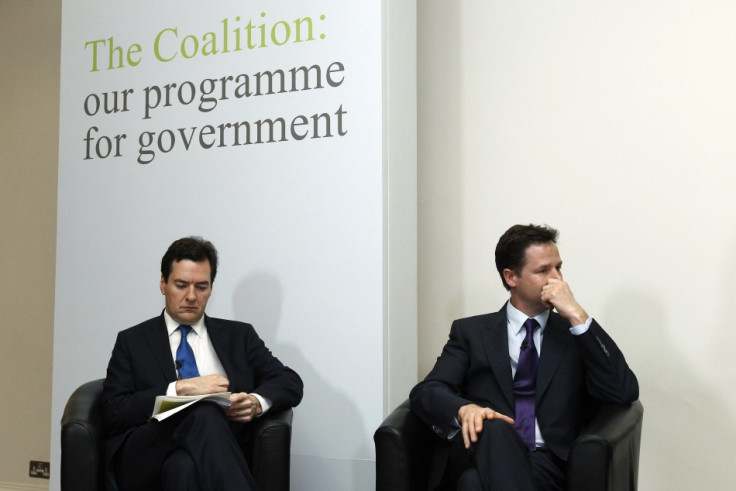 The deputy prime minister, Nick Clegg, has called on the chancellor to rethink the personal allowance threshold with family finances in a "state of emergency".
Clegg wants the personal allowance, the amount of money one can earn before it is taxed, to be raised to £10,000, but George Osborne is said to be opposed to the change, referring to the call as a "personal view" rather than a coalition policy.
In what will put further strain on relationships within the coalition, following deep divisions over Europe and university fee increases, Clegg and the Liberal Democrat's most senior representative in the Treasury, Danny Alexander, will call for higher taxes for the rich and lower taxes for the "squeezed middle".
In a speech he will deliver to the Resolution Foundation thinktank, Clegg will outline a complete overhaul of the tax system, which is "not rewarding ordinary people who work and want to drive growth".
He will argue: "The UK's tax system cannot go on like this, with those at the top claiming the reliefs, enjoying the allowances, paying other people to find the loopholes, while everyone else pays through the nose.
"This is about fairness in the middle. More money in the pockets of the people who need it."
Clegg will say: "Every politician now has a simple choice: do you support a tax system that rewards the hard-working many? Or do you back taxes that favour the wealthy few?"
This is not the first time the Liberal Democrats have lobbied for a higher threshold of tax: The first increase in the allowance, from £6,475 to £7,475, was announced in the 2010 Budget and it is set to rise again to £8,105 in April.
Clegg is also keen to see a further rise in the personal allowance. "These families cannot be made to wait," he will say in his speech. "Household budgets are approaching a state of emergency and the government needs a rapid response."
© Copyright IBTimes 2023. All rights reserved.