An auction to have coffee and a one hour chat with Apple boss Tim Cook has raised $610,000 (£400,000) for charity, having shot past the guide price of $50,000.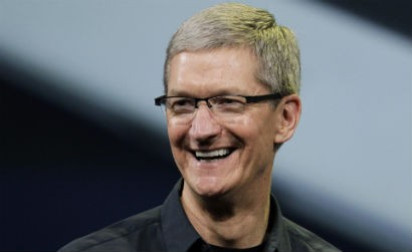 The 20-day auction received 86 bids, with the winner giving their name only as a********s , and placed the winning bid, $5,000 higher than second place, with less than five minites to go.
Bidding started at $5,000 but as the days went by the lot soon passed $100,000, then $500,000 just a few days later, before settling at $600,000 for most of its stint on the CharityBuzz website.
The winning bidder will be given the opportunity to meet with Tim Cook at Apple's headquarters in Cupertino, California and chat with the CEO over coffee for between 30 minutes and one hour. The winner is allowed to bring one guest with them, but the meeting cannot be resold and visitors must pay for their own transport and accommodation.
Coffee with Cook is the most expensive auction ever held by the website, while other current auctions include playing tennis with John McEnroe (current bid $8,000) and meeting Robert Di Nero ($7,250).
Proceeds from the auction, set up by CharityBuzz, will go to The Robert F. Kennedy Center for Justice and Human Rights, a nonprofit human rights advocacy organisation in Washington.
Founded in 2005, Charity Buzz is a New York-based internet company that raises funds for charities through online auctions with notable celebrities and brands, as well as once-in-a-lifetime holidays and access to sports events.
The winning bidder for coffee with Cook will have to pay an extra $10 processing and handling charge, plus $15 shipping for tickets and certificates, although this seems unlikely to be a dealbreaker.
The meeting will take place at "a mutually agreed upon time" and the winner must go through security checks before meeting Cook at Apple HQ.
Previous notable auctions include pitching an idea to Rupert Murdoch for $85,000, shadowing former US president Bill Clinton for a day for $250,000 and a walk-on role in TV show Mad Men for $60,000.