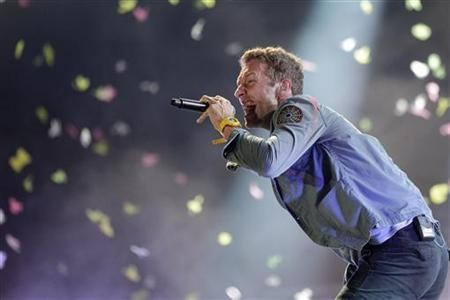 Coldplay has joined other artists, such as Adele, in not allowing its new album 'Mylo Xlyoto' to be streamed on services such as Spotify.
By not allowing fans to listen to 'Mylo Xlyoto' for free, Coldplay hopes that fans will instead purchase either the CD or digital download; the album cannot be listened to on any online streaming service, not just Spotify.
Coldplay's label, EMI, is said to be a "little embarrassed" with the band's decision, according to CNET. The label, which recently lost Robbie Williams to Universal Music, said in a statement: "We always work with our artists and management on a case by case basis to deliver the best outcome for each release."
The band - whose lead singer Chris Martin was a personal friend of Steve Jobs and performed at a tribute to the late Apple co-founder last week - offered a new track from the 'Mylo Xlyoto' album each day last week through iTunes.
According to CNET, industry insiders have claimed that Coldplay want fans to listen to the album as a whole and not broken up into singles.
Spotify said in a statement: "We have strong support from the music industry. We of course respect the decision of any artist who chooses not to have their music on Spotify for whatever reason. We do however hope that they will change their minds as we believe that the Spotify model is adding, and will continue to add, huge value to the music industry."
While music can be streamed for free through Spotify, there is a payment model which the company believes to be successful and in the artists' interests. "Right now we have already convinced millions of consumers to pay for music again, and that they are generating real revenue for the music business."
Rhapsody is another music streaming service that will not be able to offer Coldplay's new 'Mylo Xlyoto' album, but a spokesperson from the service has defended the streaming business model: "Artists are getting paid every time one of their tracks is being played. A download is sold and the revenue is distributed, but the artist doesn't see any more money from future plays of that song.
"With streaming, if someone plays a song a million times, the artist will earn money from that. Music acts could potentially make more money."