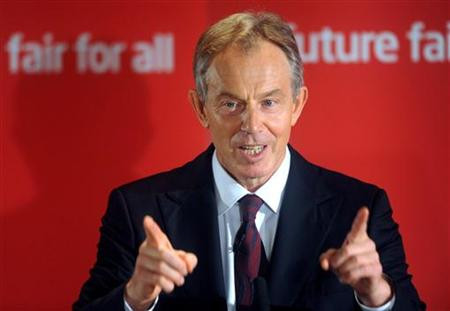 Former prime minister Tony Blair has urged eurozone leaders to rally around to arrest the collapse of euro which, he said, would have a catastrophic impact on the EU.
"There had never been a tougher time for a leader than right now," Blair told the BBC's Andrew Marr Show. "If the single currency broke up, it would be catastrophic," he said.
Blair has called upon policy leaders of the zone to put in place "strong fiscal co-ordination" and a "long-term framework of credibility" to tide over the crisis. While agreeing that the leaders faced "very difficult and painful" choices, Blair said it was imperative to have major reforms being initiated.
"Right now for the single currency it is absolutely essential, if it is to be preserved, that the whole weight of Europe and its institutions comes behind it. What we could have done to stabilise this situation a few months back, you now have to do even more to stabilise it today," he added.
Blair has also defended his former chancellor Gordon Brown's attempts to push hard for the UK to not go into the euro. "He was right, although I would also say by the way, I was never in favour of doing it unless the economics were right," he said.