A man has died after being gored in the heart at a bullfight in Colombia while another has been killed from wounds received in the ring.
In addition to the two fatalities, dozens of people were injured during the fight at the Corraleja in Arjona, Bolivar on Sunday.
The bullfighting festival took place over the weekend in the northern Colombian festival.
Fight spectator Orlando Ramos confirmed to Sky News that a man had been gored in the heart, adding: "According to the report from the doctors who were there, it was a very deep stab."
While reports about how many were injured differ, some suggest as many as 44 people were hurt.
El Mundo reports that the men were killed during the third of the four bullfights during the festival.
Jose Miguel Gutierrez, another attendee, said: "Most of all, the show is when people make a spectacle with the flat and the cape, not when they are being injured.
"When there is death it is sad. The party should not be for that, but there are mistakes made in many festivals."
Reports said the bull attacked a 25-year-old man and dragged him around the arena for several minutes, and that he was still being attacked after his death.
During the festival, spectators are allowed to run or ride horses freely around the bullring while being chased or taunting the animals.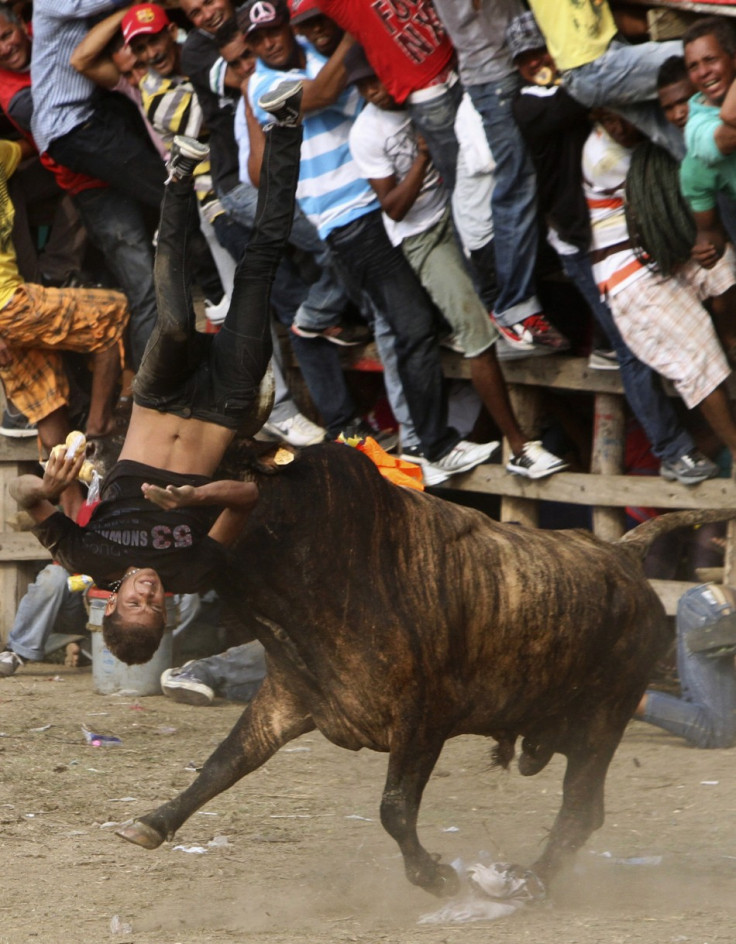 Around 30 bulls are normally used in the festival and they are not killed at the end, unlike traditional bullfights.
This is not the first tragedy to befall the festival. In 1980 the third tier of the viewing stand collapsed, killing around 500 people. The festival was promptly suspended and did not re-open until 1999.
In 2009, one person was killed and at least 10 more were injured when a bull became incensed and attacked spectators.