Colombian government and Farc rebels announce revised peace deal
The modified deal includes suggestions from the opposition, religious leaders and others.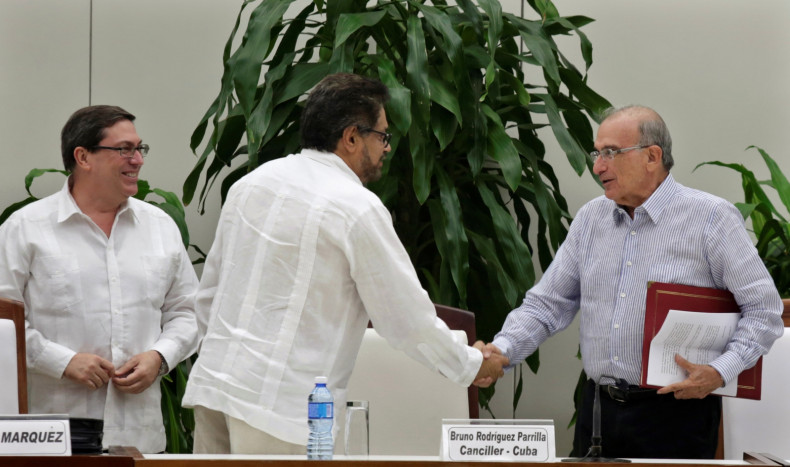 The government of Colombia and Farc rebels have agreed on a new peace agreement on Saturday (12 November). This comes almost six weeks after the original deal was rejected by the citizens of Colombia in a referendum amid allegations that the agreement was too favorable to the rebels.
The Revolutionary Armed Forces of Colombia (Farc) and the Colombian government said that they included suggestions from the opposition, religious leaders and others. According to reports, the new peace deal may not be put to vote but will be submitted to Congress but some opposition members have asked for it on social media.
A joint statement released by both the parties said: "We call upon all Colombia and the international community... to back this new accord and its quick implementation so as to leave the tragedy of war in the past. Peace cannot wait anymore."
The new agreement will not amend a contentious part of the accord which gives 10 congressional seats to the Farc rebels until 2026. It will also not stop the rebel leaders from being elected to posts in the government, Reuters reported.
In a televised address, President Juan Manuel Santos said that the accord would not be integrated into the constitution of the country and the rebels would be required to put forward a full list of their assets.
One of the important concerns of those who voted no in the plebiscite is that the convicted left-wing rebels will not go to jail and will only do reparations work and landmine repairs. The modified agreement would not propose jail time but the president said it would make sure the rebels, who are sentenced, will be confined to certain areas, work hours and living arrangements.
"It is very important Colombians understand that the reason for all peace processes in the world is precisely that rebels lay down arms and can participate in legal politics. Our process with the FARC is not and cannot be an exception," he said.
According to sources, ex-President Alviro Uribe, who was a vocal opponent of the original deal was not happy with the modified one. Uribe on Saturday said that his camp and the victims of the rebels need to have a look at the new deal before it is implemented.
In a statement he said: "I have asked the president that the texts they announce in Havana not be definitive." Last month, Santos won the Nobel peace prize for his efforts to end the war.